The United States is facing an epidemic of student suicides. Since the 1950s, the number of college suicides has tripled. Nationwide, 1,100 students commit suicide each year.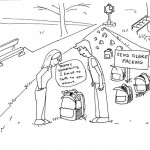 To bring awareness about student suicides, the Ithaca College chapter of Active Minds held the exhibit "Send Silence Packing" last week. The exhibit featured 1,100 backpacks with messages from families who have lost a student to suicide. The college was one of 14 institutions to receive the backpacks this spring.
The exhibit was a successful way to start a conversation among campus community members. Suicides should not be ignored — despite their sensitivity. If there are more conversations concerning mental health, students may feel more comfortable seeking help. Students need to know they are not alone.
Recent national studies have shown that college students have felt more stressed than ever before. The cost of college and the pressure to succeed may be reasons for the increase in suicides. And social media websites have led to cyberbullying and student depression. Whatever the reasons are, student suicides are on a rise and need to be discussed.
More exhibits like "Send Silence Packing" should be held on campus to keep the conversation going. Students are also urged to seek help from the college's Counseling Center if they feel suicidal, depressed or know someone who is in danger.
Sadly, the Ithaca community is no stranger to college suicides. But the exhibit was a proactive way to address the issue. Other institutions, such as Cornell University, should look at the "Send Silence Packing" exhibit as a way to explore the issue of student suicides.
Unfortunately, suicides happen every day. But in order to prevent them, we need to be more aware.