Walking to and from campus next year will not only be easier for students but also safer.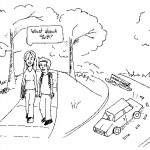 As part of Ithaca College's Athletics and Events Center plans, new pedestrian walkways, lights and bike paths will be installed at the intersection of Coddington Road and Hudson Street.
Coddington Road has been a popular path for students who reside off campus to get to the college and for those who live in the Garden Apartments, Quads and Emerson Hall to get downtown. Installing sidewalks at that location will help eliminate the possibility of cars hitting students walking — especially late at night on the weekends.
Now the college needs to make sure the New York State Department of Transportation installs sidewalks along New York State Route 96B. The busy road is also a popular route for students and college employees walking to the campus, but it has very little lighting and no sidewalks — making it dangerous as vehicles drive by at 40 miles per hour.
Simply installing signs along 96B warning drivers of pedestrians will not suffice. Drivers can ignore the signs and at nighttime, it may be hard to see pedestrians. If sidewalks are created, it separates drivers and pedestrians and keeps walkers safe. The college has sent a proposal to the state, but now it needs to keep putting pressure on the state, reminding it of the dangers of a sidewalk-less 96B.
More than two years ago, a student and Master Patrol Officer Bruce Holmstock were each struck by cars driving on 96B. Installing sidewalks on 96B will make sure another accident does not happen.
If sidewalks on 96B are installed, the college and state will be creating a safe route for students to come and go.