Many people only know the Center for the Study of Culture, Race and Ethnicity because of its high profile discussion series, but it is an academic unit — endowed by Ithaca College's board of trustees — that delivers a curriculum focused on African, Latino/a, Asian and Native-American people. The Center has two minors, in African Diaspora and Latino/a Studies, and we are now working to develop the last one in Asian-American Studies.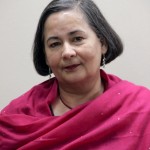 This year, the CSCRE is celebrating its 10th anniversary and, in connection with that, we have hosted two popular events as part of our discussion series, "Centering the Margins." In September, we brought Bobby Sanabria to campus and, in October, bell hooks. Next semester will also feature several speakers and a performance by DJ Spooky.
The Center's academic and extra-curricular programming aims to make visible the marginalization of ALANA groups as well as the implications of this marginalization for U.S. society. By marginalization, the Center's faculty means everything from racial hierarchies, power differentials and systemic exclusion/exploitation to the destruction and oppression of people of color. These are obviously complex and difficult issues to speak about which may explain the national curricular silence around them.
Even on our own campus, an ALANA-focused curriculum is of recent vintage since it was only in 1998 that a committee was tasked to look into developing an Ethnic Studies program. (Of the many faculty and administrators on this committee, only four of us remain at the college: Julian Euell, Naeem Inayatullah, Tanya Saunders and I.) As a result, when the Center was founded, it was behind the times because the college was too.
But in some ways, the Center was also ahead of its time because the Ethnic Studies committee that recommended establishing it visualized it as having a campus-wide mandate and being cross-disciplinary in nature. As a result, the CSCRE, which is housed in the Division of Interdisciplinary and International Studies, has a breadth of outreach that is difficult for school/disciplinary specific initiatives. Its minors draw on courses from all five schools and faculty from all the schools also serve on its advisory board. This range and mode of collaboration enables enormous creativity and innovation on our campus.
The CSCRE's intellectual, epistemic and methodological approach to the curriculum is also innovative in that the faculty who conceptualized it wanted it to emphasize the interconnectedness of human life and social reality. Among other things, this means critically interrogating all those binaries — for instance, between self/other, inside/outside, black/white, local/global — that make their connections invisible. To this end, most CSCRE's courses enable students to study the self in relation to the other, to use historical and comparative approaches in understanding people's experiences, to appreciate how theory and practice inform one another, to critique the processes of knowledge construction and to see the U.S. as being part of a larger world.
In the two years the CSCRE's minors have been on the books, we have had more than 30 students register for them — more than we had expected. Some of them are now pressing for a major, and, in light of student interest as well as a felt curricular need, we are considering a major in Comparative Race Studies. This is the Center's next challenge and all its faculty — Sean Eversley Bradwell, Paula Ioanide, Gustavo Licon and I — are determinedly working to meet it, with the college's support.
Asma Barlass is a professor and program director for the CSCRE. E-mail her at abarlas@ithaca.edu.