Students are immersing themselves in the vast culture of the Big Apple through Ithaca College's New York City pilot program. Though still in its infancy, the college's NYC Center presents the institution with an opportunity to strengthen its presence in a burgeoning academic and professional hub.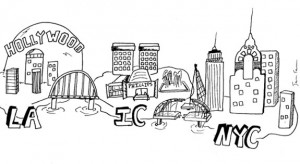 The college is seeking to expand the NYC program to students from all five professional schools. Such a goal is in line with the college's emphasis on integration per the IC 20/20 vision. However, before expanding to such a large degree, the college should continue to focus on nailing down foundation logistics of what the NYC Center could offer.
The college should identify programs and majors like film, journalism and art that would most benefit from a semester in NYC. Before applying for the program, students should be able to rely on the likelihood that classes they need will be offered. One strength of the L.A. program is that the same classes are typically offered each semester, allowing students to plan their degree program and L.A. semester far in advance.
Though each study-away center cannot be compared element by element, the L.A. internship-focused program has what the D.C. program lacked — a defined link to specific majors. The ICLA program has a strong tie to the entertainment industry for majors in the Roy H. Park School of Communications. Because of the large number of alumni working in industry-related fields in the L.A. area, students apply for the program assured that they can find internships and connections that will benefit their educational career.
The NYC program, which is currently for business and communications students, can be strengthened to achieve the same prestige of the ICLA program. New York City has a large network of alumni working in media, for example, so journalism students would particularly benefit from the city experience. By first focusing on catering to specific majors, the NYC Center will have the potential to establish a reputation with students like the L.A. program has done.
With careful planning, the center would prove to be a more attractive offer than the D.C. program was for students contemplating their study-away options.