Planned Parenthood usually hits the mark — advocating for women's control over their bodies and fighting Congress for legislation to make birth control more affordable and accessible. But its recent campaign isn't quite as in-check as past efforts.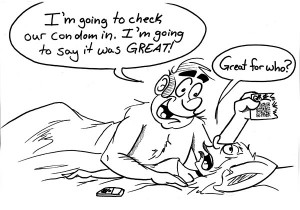 Planned Parenthood of the Great Northwest created WhereDidYouWearIt.com to encourage people to "check in" where they're having sex via the Quick Response codes it placed on condoms. The project idea is to normalize and encourage condom use.
While good-natured, the project jumps the gun on safe-sex education. It focuses on engaging in safe sex without recognizing that having a condom doesn't necessarily prevent pregnancy and disease.
A study published Feb. 17 in the Sexual Health journal found that people worldwide are still iffy on how to properly use a condom. The study cited some common errors in condom usage, such as not leaving space at the tip, not squeezing air from the tip and putting the condom on upside down. Condoms are "98 percent effective in preventing pregnancy," but the claim is only true if the condom is used correctly.
The notion of checking in puts a private act in the public light for the sake of gathering data, and the idea doesn't come to any conclusion about making sex safer. It just presents an interactive map of who's doing the deed where. On the website, people can even choose whether "The Safe Sex Was … Ah-maz-ing, pretty good," etc. After Planned Parenthood rakes in the number of "ah-maz-ings" to "fair," they will have gathered no data stating if the safe sex that "should be shared" was actually safe or not.
If Planned Parenthood wants to encourage true safe sex while gathering usable data in an interactive way, it should add a "Proper Condom Usage" instruction list with steps that people check individually to reinforce proper condom usage. As far as using a QR-coded condom — if you're going to check in on the website as having sex in the "bedroom" or "the great outdoors," remember keeping it safe means not only wearing the proper attire, but wearing it correctly.