Recently, full-time faculty took a stand against what they say is "grave unfairness" at the college. For the second year in a row following the board of trustees' approval of the 2012-13 budget, part-time faculty will not receive a raise, but full-time faculty will.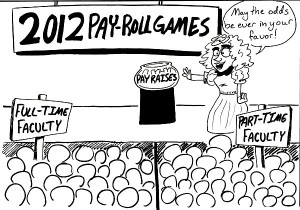 In February, 69 full-time faculty members signed a petition saying the college should extend the raise to part-time faculty. They sent the letter and petition to the board of trustees, President Tom Rochon, Provost Marisa Kelly and the deans from every school at the college.
The fight for fairness is a college-wide effort, as students from the Labor Initiative in Promoting Solidarity have held a panel to discuss issues facing part-time faculty. The group has even proposed a way to extend the raise to part-time faculty by reallocating funds without increasing tuition.
Part-time faculty are caught in a catch-22 situation in which it's difficult to obtain full-time faculty positions. They don't have as much time as outside competitors to beef up their curriculum vitae by engaging in outside research and projects — which are typically considered vital activities — before being employed as a professor.
The college should take faculty and student concerns into consideration regarding the unequal pay raises and dedicate time to looking into how extending the raise would be feasible. Offering fair pay is especially important in the near future as the college will be looking to hire faculty for new courses under the IC 20/20 core curriculum. Current faculty who may want to apply for those positions are currently at a disadvantage.
The faculty members and students who have spoken in favor of part-time faculty raises should be commended for wanting to work in an equal pay environment. The college administration should recognize this desire and work with faculty and LIPS so that both full-and part-time faculty are rewarded for the services they provide to the campus community.