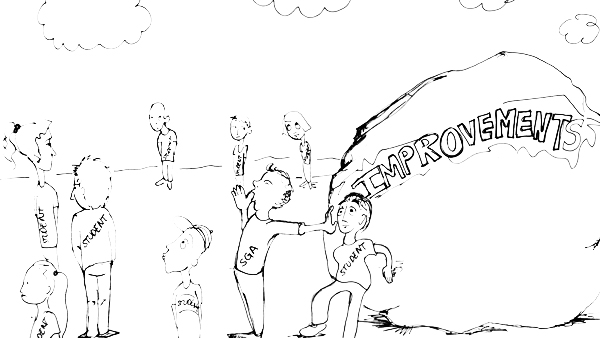 The Student Government Association recently released the results of a campus-wide survey to identify students' top priorities for improving life at Ithaca College. The survey, which indicated that dining on campus, course registration, on-campus concerts and residential life are of top concern for students, will help dictate SGA's agenda for the remainder of the year.
SGA has been successful in making changes to expand healthy eating options in campus dining halls as a result of the feedback it received from the survey. This shows that it has both the muscle and drive to yield real change on campus. However, the organization lacks the power to truly motivate the student population. While the attempt to get more feedback from the campus community shows a commitment to focus on initiatives that will best serve the community, the lack of participation is disheartening. Only 210 students completed the survey, even though all students received an email from SGA when the survey was launched.
Further, the survey offered set initiatives and asked students to rank them by importance rather than asking students to offer up their own ideas of where the college could improve. The survey did allow students to comment on each initiative to give more specific input. While student outreach surveys should be more focused on students' individual priorities rather than the set SGA agenda, students should be more involved with the work of the student government.
This year's SGA is working on important initiatives like the creation of a diversity and social justice statement for the college that could make a lasting impact. Our student leaders are clearly willing to accept student feedback and work to make their time on campus meaningful. Giving SGA feedback is an easy and important way to make your mark as a student.