Last week, former Rutgers University student Dharun Ravi was convicted of 15 charges, including invasion of privacy and committing a hate crime. Two years ago at age 18, he used a webcam to spy on his roommate kissing another man in their dorm and streamed the footage over the Internet. Shortly after, his roommate, Tyler Clementi, jumped from the George Washington Bridge and died.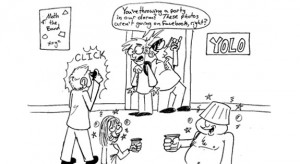 Critics say Ravi's sentence of up to 10 years in prison is too harsh. Others say the verdict was fair for a homophobic act. Were Ravi's actions simply "ignorant and immature," as his lawyer said, or were his motivations malicious? Whatever the answer, his case shows that as technology and the way young people use it changes, residential colleges should better educate students about the implications of the invasion of privacy.
College students know how to change Facebook privacy settings. But after setting those controls, they can easily place caution on the back burner and give way to the freedom of online sharing — even information about a friend that may violate their notion of what should be kept offline. Students should think of how their posts portray others.
Ithaca College is a fairly accepting campus, but the Office of Residential Life should take the Ravi case into consideration and tweak the way students are prepped to live with a stranger. Some students read the entire roommate contract they receive from RAs and talk about potential issues that may arise with people they live with. However, a good majority of them also just skim through it, sign their name and give it back to the RA. Online actions should be brought up at initial RA-resident meetings. For example, is it OK to tag a roommate in a post and upload pictures of the room that includes the roommate's belongings?
Roommates should be conscious of whether their online presence coincides with their agreement. Colleges and students need to discuss the things that don't always come to mind when posting to social media. By including the Internet in the category of crucial topics to discuss, students can better protect privacy for themselves and those around them.