Diversity lies in small pockets of Ithaca College, whether in the form of new courses, speakers or student-driven clubs. Now, it's time to move beyond surface-level attempts at becoming diverse by improving those good-natured initiatives that, on the flip side, can also strongly divide the student body.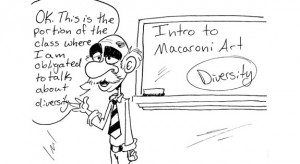 Engaging in diversity at the college is optional. Students can choose to take a course in Muslim cultures, for example, or join a club to discuss issues surrounding religion, race, gender or sexual orientation.
If the college hosts a "diversity talk" addressing race, the event will most likely by default draw primarily students of underrepresented racial backgrounds. Becoming more diverse does not translate campus-wide if a speaker's audience is predominantly composed of the minority group he or she addresses.
This problem is a double-edged sword present in some student clubs. For example, groups like the Asian-American Alliance create a safe space for their members to find solutions to racial bias on campus and in class. These students foster an environment they find lacking in the college culture at large. But do most students who don't identify as Asian-American or have a personal interest in Asian-American culture take it upon themselves to show up? Usually not.
The college plans to include "one course centrally concerned with diversity" as part of the proposed core curriculum. In this context, students should not define "diversity" as simply learning about others who identify with different groups than they do, but as fully understanding the issues concerning these groups.
The college should create a list of classes that emphasize diversity — not courses that incorporate a broad range of topics, but rather intensive-study courses such as Introduction to African Diaspora Studies. A portion of all students' degree requirements should include taking a course on this list.
After engaging in more courses that incorporate diversity, hopefully all students will feel more comfortable attending a diversity lecture or an African- Latino Society meeting. Students would gain a better understanding of how racial, social and economic diversity plays into the world's institutionalized systems — and perhaps end the visual divide outside of class.