At some point in my 4-year-old sister's life, someone will have to sit her down and explain to her that she almost didn't make it into this world alive.
It's 2007. My mother is in the passenger's seat of a car headed down a street in Atlanta, Ga., when an oncoming car runs a red light and rams violently into the vehicle. She is about seven months pregnant. People will later tell her that she is a lucky woman — if the car impacted just inches closer to the passenger's seat, both she and my little sister wouldn't be here today.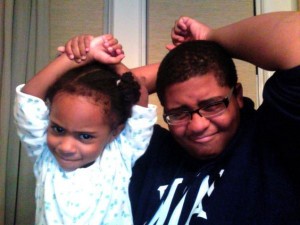 My mother is panicking and being rushed to the hospital. The accident leaves the car totaled and gives my mother a few scratches, but the shock has taken over the shaky synapses in her body, sending waves of discomfort through her arms, legs, feet and stomach. The doctors cannot find my sister's heartbeat. They do not know if she is alive.
It's the summer of 2011. I'm sitting in my living room; the orange Georgia sun pierces through our transparent cream-colored blinds. I begin singing Nicki Minaj's "Super Bass," and my sister, whose name is Eliyana, rushes into the living room from her adjacent princess-themed bedroom. She begins to bob her head and wiggle her hands to the music. She has moves. She is her brother's sister.
One year ago I explained to Eliyana that I was going to London to study abroad and work at a place called "The Associated Press." I pointed out the location on a map. She didn't understand the distance. In her mind, Aaron was just leaving again for a few months only to return over his next break from college, hopefully with new Dora the Explorer DVDs and books to help her sleep at night. She doesn't sleep without a bedtime story. She has an infallible life routine.
The day of that car accident in 2007, everything in my life took a new turn. Before coming to Ithaca College, I knew very little about journalism. My first courses in the Roy H. Park School of Communications were teaching me to be objective — to seek truth and to keep a balanced outlook on the stories I covered. I began learning journalism by the books, but in the back of my mind I knew there was something more to it than that. So I went searching for it.
When new life begins, we feel it. The potential for a bright future, and the curiosity that comes with every new step and fresh experience mimicked, in a way, the same feelings I had toward journalism. I look in my sister's eyes and I see the strength my mom had to raise me as a single black mother in New York City. I see how she beat the statistical odds and defied the constructs and scripts that society had already written out for her. It's in those two struggles for life — one conscious and one not — that I find the drive to do what I do each day.
I understand that the odds were stacked against The Ithacan and myself this year. The journalism industry seemed to be in crisis mode. News of the lack of jobs in the field had finally hit us. But through the gutsy tenacity and talent of our editorial board and staff, we put out the best weekly college newspaper in the country this year. Journalism doesn't happen in a vacuum. It's at its best when the people who do it remember what inspires them to fight for the best video, the best photograph and the best story.
It's 2012, and my sister is video chatting me to show me her first loose tooth. It wiggles — a lot. Later on tonight, she is going to put it under her pillow, and my mom will slip a dollar in its place. Life goes on for her. But I want to be the one to sit her down and tell her how she began to inspire her older brother without even knowing it. I hope we'll still sing Nicki Minaj when it's time for her to go off to college. Something tells me that part of us will never change.
Aaron Edwards is a senior journalism major and editor in chief of The Ithacan. Email him at aedward3@ithaca.edu.