When more than 2,000 faculty and students from across the country visit Ithaca College for the National Conference on Undergraduate Research at the end of March, 96 classrooms and spaces will be turned into conference space.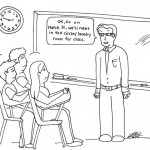 When the college submitted the first bid to the NCUR executive board, the not-yet-completed Athletic and Events Center was included as a possible venue. Had the A&E Center been completed before this spring, it would have been used as a conference venue. Now, classrooms will be used.
Classes will not be canceled. Faculty are encouraged to make the best use of their class time and bring their students to presentations. But by sending entire classes to lectures, that creates a crowded room and will interrupt students who are presenting. Some faculty members have decided to host classes in other areas, such as in a Terrace lounge. But these are not ideal learning environments.
By hosting the conference, more students from the college can participate in this learning opportunity. The conference will bring the college recognition, but it is not equipped to hold an extra 2,000 people. Additionally, while some hotels in Ithaca will be housing those in the conference, if the hotels fill up, some may have to commute from Cortland, N.Y., and other areas surrounding Ithaca. This will be an inconvenience to those presenting and will reflect poorly on the college.
When it was clear the A&E Center was not going to be completed by the time the conference started, the college should have looked into alternatives. Cornell University or a venue downtown could have been an option.
Instead, the college community and an additional 2,000 people will be struggling to find some space.