Last year, Ithaca College missed its enrollment target by about 300 students, resulting in excess spending of $1.2 million to hire additional faculty and $3.1 million to provide additional housing. But this year, the class of 2014 is right on target.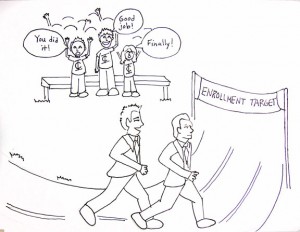 The college welcomed 2,027 freshman in the class of 2013 — the largest in its history.  In the middle of an economic recession and a decrease in application numbers in the Northeast, the college increased its acceptance rate to 74 percent.
But this year, with 13,100 applicants — the second highest in the college's history — the institution hit its target enrollment range with 1,620 freshmen. By lowering its acceptance rate to a reasonable percent and decreasing its discount rate to the historic average, the college was able to stabilize enrollment and the financial health of the institution for the first time in recent years. The college also brought back the early decision option — a program that had not been used since Fall 2007 ­— to help reach the target.
The college depends on tuition for more than
90 percent of its budget. With budgets that are made to accommodate about 1,600 students per class, over or under-enrolling students significantly hurts the college. Additional students also create a strain on faculty and staff workloads and takes away from the student experience.
In his first year at the college, Eric Maguire, vice president of enrollment management, was given the task of stabilizing enrollment. Maguire, President Tom Rochon and the college administration should be recognized for their efforts and success in being on course with this year's freshman enrollment.
But with the cost of a private college education rising year after year and demographics projecting a continuing decrease in applications in the Northeast, hitting enrollment targets must stay on the top of the college's priority list. The college is encouraged to evaluate the effectiveness of the early decision option and to continue holding admission events that draw prospective students to the campus. Taking proactive steps to stabilize enrollment need to continue in order to safeguard the future of the college.