On Jan. 1 , 2011, the first of the baby boomers began turning 65 years old. Now, almost a year later, there have been roughly 3,050,000 individuals newly labeled "senior citizens." Every day, until 2029, approximately 10,000 adults will turn 65, making seniors a large percentage of drivers on the road.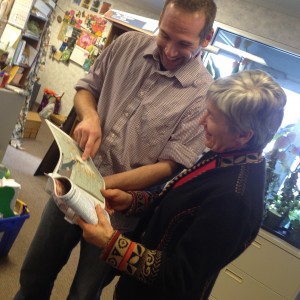 A publication produced by the American Automobile Association recently stated that, according to experts, driving ability generally begins to deteriorate at age 55, and though some drivers can continue past that age, others cannot. With a potential 40 million senior drivers on the road by 2020, the question we need to ask ourselves is: Why should we care?
Odds are that you are close to one of these new senior drivers, or a driver well past the age of 65, and you may have concerns about their driving ability. Maybe you have attempted to have "the conversation" with them, or maybe you just hope that they will come to this realization on their own. One thing is for certain: You can't expect someone to retire from driving without providing mobility alternatives.
Way2Go, a program of Cornell Cooperative Extension, presents workshops to both senior drivers and their loved ones. The workshop for seniors provides much needed introductions to local transportation programs and services and basic education on how to use them.
Currently, Way2Go has given information to nearly 200 seniors in the county who are considering retiring or already have retired from driving. Senior residents are typically unaware of all of the programs and services available to them that are intended to help them get to where they need to go without owning a vehicle. By being more aware of their options, seniors feel more empowered to make the transition from driving to not driving and are still able to maintain their mobility and independence.
The seniors that attend workshops sponsored by Way2Go are open to the idea of driver retirement, but this is not the case for all seniors in the community. Family members who feel their loved one may not be safe behind the wheel often engage in conversations that do more harm than good. For this reason, Way2Go partnered with the Community
Dispute Resolution Center to create a new workshop that addressed the needs of the family and the senior driver. CDRC provides mediation skills and tools to family members so that they can have a meaningful and productive conversation, while Way2Go provides family members with information about the transportation that is available to local seniors.
It is important to remember that retiring from driving does not happen instantly. Many times, the driver has been operating a vehicle for 50 or more years, and a behavior change of this magnitude requires time and planning, much like retiring from a job does.
Ray Weaver is the program director of Way2Go, a project at the Cornell Cooperative Extension of Tompkins County. Email him at weaver@cornell.edu. For more information about Retiring from Driving, visit Way2Go.org or call 272-2292.