As the number of international students increases at colleges and universities across the country, Ithaca College still lags behind.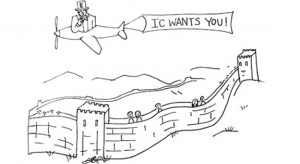 Since 2007, the amount of international students studying at the college has remained close to 2 percent of the total undergraduate population, with students representing 55 different countries. Nationwide however, 586,000 students studied in the U.S. last year, compared to 568,000 the previous year, according to the U.S. Immigration and Customs Enforcement's Student and Exchange Visitor Information System.
In an effort to target international students, the college is considering more visits to China and India — the countries that send the most students abroad — and is striving to continue to provide support for international students throughout their four years. But the college is in a position to do more.
International students add a new dynamic to the campus community. They bring distinct, individual cultures to the college that expose students to new ideas and ways of life. They also promote diversity of race, culture, ethnicity and socioeconomic status — something the college continually strives to increase.
The leading academic major among international students is business management and marketing, according to the Student and Exchange Visitor Information System. The School of Business, which has struggled with under enrollment in the past, is especially encouraged to reach out to international students about its reputable programs through visits, tours and other recruitment efforts. Nationwide, the number of international students enrolled in master's programs is just shy of those in bachelor's programs. The college should consider expanding its graduate programs, especially in business, by reaching out beyond visits and first-year support.
While the college may not attract as many international students as institutions like neighboring Cornell University, it should be a priority at the college as a way to foster diversity and global awareness.