For the average 2010 Ithaca College graduate, a degree came with some hefty baggage — more than $20,000 in federal student loan debt, to be exact.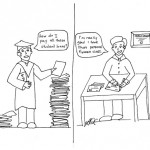 Last week, The Ithacan's front page story, "Payback time," reported on alumni in debt after graduation. As the job market and economy continue to lag, current seniors feel even more apprehensive about graduating with student loans and debt. Hearing about alumni still in debt is not reassuring. Paying off loans is a giant step into adulthood — one we may not feel prepared to face. Students need to be prepared so they can handle debt after college.
The finance department in the Dorothy D. and Roy H. Park Center for Business and Sustainable Enterprise offers a course called Personal Financial Planning and Wealth
Management. There are two sections — one for business students and one for outside majors. The class gives students the foundation necessary to make decisions that will affect short- and long-term financial being. Representatives in career services are also willing to meet with students who are seeking financial advice.
Students are strongly encouraged to register for the personal finance class. The course will give advice about how to deal with debt in your 20s. The School of Business and career services should also promote these services more as a way to teach students what to do with student loans. If more students knew about these options, it could save them a lot of anxiety after graduation. The college should also consider hosting informal workshops once a semester on dealing with finances.
A college education is not cheap. But while here, students can learn how to cope with its financial burdens.