While Ithaca College discusses how to lower faculty course loads to lessen the stressful tenure application process, it's important to remember that lightening faculty workload will also lead to a better quality of education for students.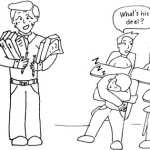 The college is known for its smaller class sizes and ability for students to contact faculty members easily. When prospective students visit the college, there is an emphasis on the small faculty-to-student ratio. But more courses for professors means there is less time and access for students to interact with faculty. By teaching more courses, faculty may also feel exhausted and stressed while applying for tenure. Their lectures may become tedious to students, and students may not receive the quality of education that the college stresses when faculty are over-worked.
If faculty's workloads were decreased to 18 credit hours of teaching, faculty would have more time to devote to their classes. With fewer classes and students to be concerned about, professors will be more accessible for the students they are teaching. It would also give faculty the opportunity to publish more research for the tenure process and decrease thir levels of stress.
Interim provost Gregory Woodward said that decreasing teaching loads is a goal to work toward in the IC20/20 plan. But if all faculty members moved to an 18-credit-hour course load, it could cost the college millions of dollars to fill in the empty course slots. The college is urged to make cuts on unnecessary spending where it can. New academic programs that will put more strains on professors should not be created. Where the college can make cuts, it should look at those departments.
By lightening faculty workload, the college can better foster the quality of a student's education.