Voicing discontent can lead to results for students. For years, students have been dissatisfied with the slow Internet connection and inability to access classes on HomerConnect while registering. Now, they may see progress.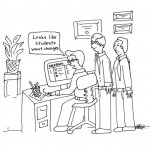 After receiving complaints in the fall, the Office of the Registrar took action to solve registration problems. To decrease traffic on the website, the office is considering breaking down groups of students into smaller blocks by class and assigning them times to sign up.
The trial run for the new registration process will take place for summer and fall classes. Hopefully all the kinks will be worked out by then.
The registration changes show the college listened to students. But there are still other areas on campus where students would like to see improvement, such as in dining services and handicap accessibility. Students should not hesitate to say when they are discontent. With the price tag of $33,630 in tuition for the 2010-11 school year, an Ithaca College education should allow for students to make suggestions and see results around campus.
Additionally, the college should collect feedback via websites students frequent, such as the college's Facebook and Twitter pages, to see if students are posting what improvements they want. Students can also reach out to the Student Government Association as a way to be heard by the administration.
To create a better campus community, the college and students need to work together to fix what's broken.