This year, Ithaca College decided to participate in The Chronicle of Higher Education's "Great Colleges to Work For" survey to better assess employee satisfaction. When the results were released, the college was not listed as a great college to work for.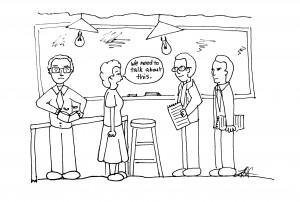 While President Tom Rochon said the results from the survey will not be released to the public, a 2005 Quality of Work Life survey conducted by Suzanne Forsyth Associates noted that the college needed improvement in management, human resources orientation and supervisor conduct. In the past few years, employees have also voiced their discontent with not having a day care on campus for their children, like neighboring institutions do. Also, for decades, unions have continuously been shut out by the college.
The Tompkins County Chamber of Commerce recently recognized the college for its working facilities, commitment to sustainability and outreach to the community. Now the college needs to focus on fixing the problems in the work environment. Rochon and his administration are urged to release the results of the survey so employees know where the discontent lies. If the community is told how employees ranked the college in areas such as job satisfaction, tenure clarity and diversity, there could be an open space for discussion and improvement.
In the next week, The Ithacan will post a link to a survey on Intercom for administrators, faculty and staff to participate in. We will be asking how employees feel about benefits, college support, facilities, the tenure process and more. Responses will be anonymous, but college employees are urged not to be afraid to speak up about their dissatisfaction.
The Ithacan encourages all employees at the college to participate in the survey. The results will be released to the public. By participating in The Ithacan's survey, the college community can discuss how to become a great college to work for.