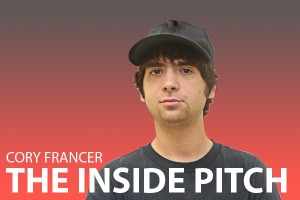 Is nothing sacred anymore? Opening day of the baseball season used to be one of the purest experiences in sports. It symbolized everything great about the game — playing in the daytime sun without the excessive pageantry that has become so prevalent in the playoffs.
Well, Major League Baseball made a mockery of opening day Sunday night. First of all, the scheduling was ridiculous. Opening day is meant to be opening day — not opening night. OK, fine, that's a minor issue, but why schedule it in Boston? The Red Sox and Yankees are lucky they weren't snowed out. Believe me, I love Fenway Park, but not in early April. Wouldn't Miami, Los Angeles or Houston have been better options?
The opening ceremonies were a nice touch. The fireworks display going off all around Fenway was a thing of beauty, and Pedro Martinez emerging from the Green Monster to throw the first pitch to Jason Varitek evoked some of the best memories of my childhood.
But then there was the kid who does the Herb Brooks speech from "Miracle" giving it a Red Sox twist. How out of place can you get? For a minute I wasn't sure if this was baseball's opening day or if the Bruins and Flyers were about to skate out onto a sheet of ice.
The celebrity appearances were sickening. Dr. Dre taking batting practice in a Sox jersey? I know he was there to promote his new headphones, but what does Dr. Dre have to do with the Red Sox? He even got to take batting practice on the field before the game. Maybe I need to start rapping if I ever want a chance to hit a ball at Fenway.
Steven Tyler singing "God Bless America" would have been good a few years ago with him being a Boston local and all, but he's well past his prime and sounded terrible. Ronan Tynan would have been funny now that he has jumped ship to Boston after being expelled from New York.
Then there was the surprise performance by Neil Diamond in the eighth inning singing "Sweet Caroline." A decent idea, since the song has been a fan favorite for a while now, but I don't get Neil's ensemble. A Red Sox hat and a jacket that read "Keep the Dodgers in Brooklyn"? Are you a Sox fan or a Dodgers fan? And also, what year are you living in? After 52 years in Los Angeles, I don't think the Dodgers are coming back.
But despite the excess and flair, the game was hardly damaged. Three home runs and an exciting comeback for the Sox made it a great game to watch. Too bad the game ended at midnight and the nation's young baseball fans had to go to bed without knowing the game's outcome. It's a simple method, MLB: For the future, tone it down and give everyone a chance to enjoy opening day.
Cory Francer is a senior sport studies major. Contact him at cfrance1@ithaca.edu.