This weekend, the Ithaca College campus will be buzzing with students and alumni spanning more than 50 years.
Last year, the college decided to move Alumni Weekend — typically in July — to the same weekend of homecoming. This saved the college money and also allowed current students to meet with former ones. The college hosted events, such as a senior class and alumni happy hour, which allowed for networking opportunities. Brenda Carlisle, events coordinator for the Office of Alumni Relations, said about 100 students attended the events last year.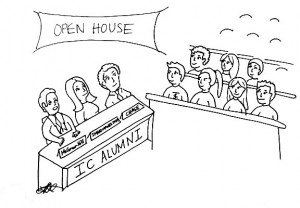 More students at the college are encouraged to take advantage of the networking possibilities at this semester's event. While alumni are reconnecting and reminiscing with old classmates, current students have the opportunity to meet alumni who can give career and internship advice. Each school will be hosting panel discussions and meet-and-greets with alumni. In the Roy H. Park School of Communications, for example, a number of panels will be geared toward the ever-changing communications world, while alumni in the School of Business will discuss career and professional development.
In a time when jobs and paid internships are hard to find, students can use this weekend as a way to make connections. The college has a number of successful alumni in all different fields. Students can listen to their experiences as they decide what it is they would like to do after graduation.
Students — especially seniors who will be entering the job market in a few months — are urged to attend this weekend's events for networking opportunities and continue the pipeline of successful graduates of the college.