The first person I was paired with in the Ithaca College Intercambios was a quiet but determined single mother from Peru. We met for an hour and a half once a week at the Tompkins County Public Library on Green Street, talking about topics like educational differences between the U.S. and Peru and what our hometowns were like. My Spanish was improving, but the moment I realized Intercambios was much more than just practicing Spanish was when Nora casually called me her friend during a conversation.
Our organization, IC Intercambios, has two focuses: to help native English and Spanish speakers improve their foreign language speaking skills and to help interested Spanish-speaking migrant farm workers learn and practice English. The word "intercambio" in Spanish means "exchange," and that is exactly what we try to foster — an exchange of languages, culture, ideas and friendship.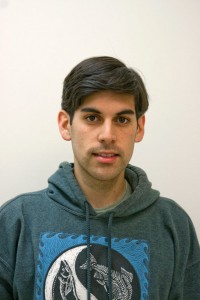 Students at a higher Spanish level travel to nearby farms and teach English to migrant farm workers from countries in Latin America. The farms are typically 30 to 40 minutes outside of Ithaca, and students are responsible for their own transportation.
The impact that IC Intercambios has on students, community members and farm workers is profound and is best related through personal experiences rather than statistics. Conversation partners usually become friends and may end up meeting each other outside of the regularly scheduled hour-and-a-half conversational exchange. They may do things such as cook together, where the spirit of the "intercambio" can expand to include culinary traditions. Others have gone to see Spanish-language movies screened at Cornell University.
While farm workers learn English, students also learn from the farm workers. It may come as a surprise to hear farm worker after farm worker describe nearly the same morning routine: get up at 3 a.m., take a shower, milk the cows, have a light lunch or none at all, get off work at 4 or 5 p.m., watch television and go to bed. When discussing family vocabulary, many students learn that the workers have not seen their families in three or more years and may not for years to come. One student was surprised to learn the No. 1 phrase workers wanted to learn in English after "How do I order a pizza" is "The cow kicked me."
Students and farm workers also tend to become good friends, with lessons continuing from one semester to the next. Knowing the farm worker program also shares in the spirit of a true "intercambio" makes it all that much more rewarding.
Anyone interested in IC Intercambios can attend the meetings at 5:30 p.m. Thursdays in Friends 205.
Alejandro Chavarria is a senior Spanish major and president of IC Intercambios. E-mail him at achavar1@ithaca.edu