After negative Facebook statuses and tweets  about Ithaca College's branding survey, it may be time for the Office of Marketing Communications to go back to the drawing board.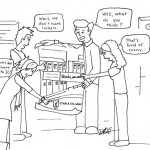 The survey featured images designed to communicate that the college is "forward thinking, confident, professional, well-prepared and ready for the future." The expression "Ready or not" with "not" being crossed out was also used. A final report and analysis will be available in May, but participants have already expressed disappointment.
Facebook statuses and Tweets to the college mentioned that the "ready or not" expression with "not" being crossed out makes the college seem unsure of themselves. Statuses said the blue and white logo made the college seem as if it was an online institution or hospital. Students tweeted that they didn't understand the meaning of some of the posters, and many of the posters were badly designed.
According to the Office of Marketing Communications, the statement "ready or not" is designed to portray the college as an institution that creates graduates who are "ready." The college should strive to find a more unique expression. Most students at institutions leave feeling more prepared for careers than when they began. We need something that sets Ithaca apart and makes us "ready." Some of the posters also need to be redesigned. There should be no confusion as to what the message is.
The Office of Marketing Communications needs to listen and implement changes based on responses. In doing so, the campus can move forward with a new public face for the college that members are proud of.
Students may be ready to move forward, but the Office of Marketing Communications isn't.