Imagine Ithaca College 10 years from now. There may be new buildings on campus. Some of your favorite professors will no doubt have moved on. There may even be more television screens in random places. Like any institution of higher education, the college will always be in a state of flux — adapting to an ever-changing job market, trying new ways to better prepare its students. To make them "Ready," if you will.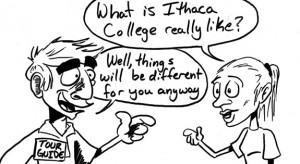 Current students at the college in this time of widespread institutional advancement have a strong obligation to remain aware of these changes and to bridge the gap between the present and the future. Prospective students often reach out to current students and alumni to answer that age-old question: "What is an Ithaca College experience like?"
Though students' answers will vary, future students will be best informed by those who understood where the college was headed in a year that President Tom Rochon lauded as one that would define the college for years to come. Their testimonies to the alterations the college experienced will only serve to better educate a future population of Ithaca College students.
At Ithaca Today, the college's last push to get accepted students to sign their checkbooks on deposits, the strongest element of the visits for many attendees was the student-to-student interaction. Ask freshmen and incoming students who toured the college before deciding to come here — odds are that most will say that the deciding factor for them was speaking to a current student about their individualized experience. Therein lies the true strength of Ithaca College. Moving forward with IC 20/20 initiatives, the administration should keep in mind that student testimony will always trump any other form of institutional marketing.
The official college explanation of IC 20/20 is no longer the only one. This semester, The Ithacan has published extensive reporting on the strategic vision, available at theithacan.org/ic2020. Organizations like the Student Government Association have put pressure on the administration to open the floodgates of institutional communication. The tools are ready and available. It's time now for students to adopt a deeper sense of responsibility and realize that their generation of Bombers is a unique one. They are the arbiters in this era of change.