With youth comes invincibility. We think nothing bad can come to us. We'll live forever. And so when death grabs one of us, it knocks the rest of us over and reminds us how short and beautiful life is.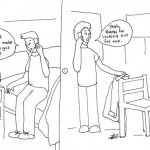 Ithaca lost two students last week — Ithaca College freshman Victoria Cheng and Cornell University sophomore George Desdunes. The investigations for both deaths are still pending, but alcohol was supposedly involved in both, Tompkins County Sheriff Ken Lansing said.
We're young and sometimes careless. But it takes the deaths of 17-year-old Cheng and 19-year-old Desdunes — students who were just beginning not only their college careers but also their lives — to unfortunately remind us this can happen to anyone.
Cheng and Desdunes were not the first college students in the area to pass away. In the past four years, Ithaca has sadly seen its fair share of student deaths. As we make the transition from adolescence to adulthood, we need to remember to be careful and responsible, especially while drinking and going out. Cheng and Desdunes' tragic deaths remind us life is so fragile, and we need to look out for each other, be it for a ride home or just someone to talk to.
Ithaca lost two young, bright students. Friends have described Cheng and Desdunes as cheerful, friendly individuals that will now never have the opportunity to make their friends smile again. Whether or not you knew Cheng or Desdunes, take a moment to remember them. Consider their families and friends as they mourn their loved ones. As you walk around campus worrying about midterms and papers, take a moment to think about the students who are no longer with us.
But above all, remember that life — so short and unpredictable — needs to be cherished.