As Sodexo dining service employees across the nation are uniting to fight for better working conditions, students at Ithaca College are showing support for its dining hall workers.
The Service Employees International Union has started the Clean Up Sodexo campaign, which aims to unite workers and inform the public about the working conditions Sodexo employees face. Sodexo, a French international food service and facilities management company that employs about 380,000 people around the world, signed a contract with the college in 2000 and renewed it for another 10 years in 2007.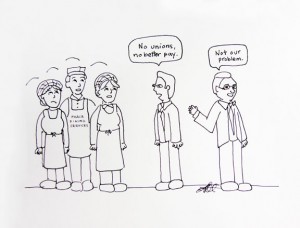 Workers have been fighting for improved working conditions, better pay and benefits and the right to unionize without intimidation. President Tom Rochon said the college cannot do anything about the working conditions of Sodexo employees because dining hall workers are employed by Sodexo — not the college. But the institution does have the power to make changes in workers' conditions, by threatening not to renew its contract or putting pressure on the company to act ethically.
The students who are standing with the Sodexo employees are recognized for their efforts and support. It is important for students to take an interest in issues — especially ones that hit so close to campus. More students are urged to get involved and take initiative for the Clean Up Sodexo campaign.
The Ithacan reported last week that Rochon said he would be happy to hear students' concerns about Sodexo employees' working conditions. As the student organization Labor Initiative in Promoting Solidarity spreads awareness of the working conditions and drafts a code of conduct that would guarantee employees a living wage, the administration is urged to really listen to students and address their concerns. The college may not be able to make any moves concerning the Sodexo workers' conditions, but it should not sweep students' concerns under the rug.