Alison Malmon, creator of Active Minds stated, "Not everyone has mental illness, but everyone has mental health."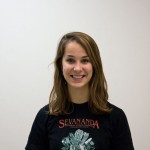 Active Minds originated in 2001 as a student-run organization to increase mental health awareness and reduce the stigma surrounding mental illness. Active Minds groups are changing the conversation about mental health all across the United States and Canada. Last weekend,  14 members of Ithaca College's Active Minds chapter attended the National Mental Health on Campus Conference at Montclair State University to help "shape a growing movement."
The conference began with Active Mind's "Send Silence Packing" display, which included 1,100 backpacks to represent each and every student that dies annually on college campuses from suicide. Seeing the 1,100 backpacks lined up in an assembly room resonated with each member of IC Active Minds. It not only gave a tangible presence for the deaths that occur every year, but it also motivated people to further reduce the stigma behind mental illness in order to allow others to feel comfortable about seeking help. The three-day event included speaker presentations, collaborative meetings with chapters in the upstate New York region and programming idea sessions to further increase awareness of mental health issues.
Throughout the conference, attendees were told positive interpersonal dialogue has been proven to change negative preconceptions of seeking help for mental health issues. Because of this, IC Active Minds is changing the conversation about mental health through its very own Speak Your Mind panels. SYM panels consist of students who have been personally affected by or know someone who has been affected by mental illness. SYM panels offer an open, honest and personal discussion of the emergence of mental illness on college campuses. The panels will also give a voice to the positive and transformative effects of seeking help in the quest for mental wellbeing.
Post Secret founder Frank Warren did a presentation that was a highlight for many who attended. He stated that there are two kinds of secrets: those we keep from others and those we keep from ourselves. The purpose of his campaign is to provide a social community in order to attack stigmas surrounding mental illness. The conference ended with an appearance by actress Brittany Snow and a presentation of her "Love is Louder" campaign, which hopes to inspire positivity and kindness to combat the recent bullying and hate in current events. Snow told her story of being bullied in high school, suffering from depression and coping with an eating disorder. She is now focused on working with Active Minds to increase the conversation about mental health, to spread the word of recovery and to say that indeed, love is louder.
Erin Irby is a junior intergrated marketing communications major. E-mail her at eirby1@ithaca.edu.