"I got so much trouble on my mind. I refuse to lose. Here's your ticket. Hear the drummer get wicked."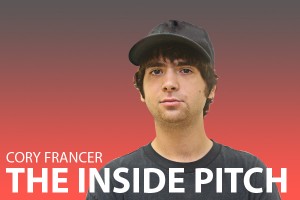 Never before have I had a class begin with a professor playing Chuck D's booming baritone rhymes, but this was no ordinary class. It was the beginning of a path that changed my perspective on sports and on life.
Public Enemy's "Welcome to the Terrordome" was my introduction to the sport studies major, a path of higher education that I had only merely considered after deciding the journalism program wouldn't fit my needs. Right before the required deadline of declaring a major, I joined one of the smallest legions of students on campus, accepted Chuck D's ticket to the Terrordome and enrolled in sport studies.
There's really no good way to explain what goes on in classes like History of Sport, Philosophical Perspectives of Sport or Sport in Film and Literature. The challenge is to look within oneself and realize that there is a choice to be made — whether we just merely go along with what we've been told by mainstream media and society or if we can make informed decisions on how to participate in daily life.
So as you walk into class, don't expect to watch that morning's episode of "SportsCenter" and discuss the contributing factors to LeBron's nasty dunk from the night before. Our fearless leader, Dr. Stephen Mosher, will hardly let that happen.
And no matter how much you think you know about sports, don't expect to feel comfortable in class or while doing your assignments. In the Terrordome, you will learn things about the world around you and how you perceive it that will literally make you re-evaluate your entire life path. If you're not squirming at your desk, then clearly you're not paying attention.
As you're filling your arsenal of knowledge as you travel down the Terrordome's course, there's never a clear sign that will point toward what to do with what you've gained over four years. Our unofficial motto is that "you go on the journey you're ready for."
My journey landed me a trip to Beijing to report for the Olympic News Service during the 2008 Summer Games and an independent study with the sports section of USA Today, so I think I can chalk that up as a success.
But no matter where your journey takes you, there is no way that you'll ever be able to continue participating in sports without using your full inventory of awareness that was picked up in sport studies.
So, to anyone still juggling with the major decision, sport studies has my full endorsement. It will be a bumpy ride, but it is well worth it. Good luck, and welcome to the Terrordome.
Cory Francer is a senior sport studies major. Contact him at cfrance1@ithaca.edu.