For decades, Ithaca College sports have not filled a certain position at games — a school mascot. But now, the search is on to fill that spot on the roster.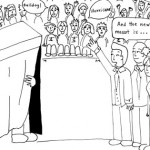 On Tuesday, suggestions started for the college's mascot. Students will be able to submit their proposals until January, and the finalists will be chosen by the Mascot Selection Task Force in the spring. The task force will look over the finalists and then reveal the mascot in October at the dedication of the new Athletics and Events Center.
The majority of students do not regularly attend the college's sporting or spirited events, with the exception of big football and basketball games. A college mascot will unify students and create more school spirit by giving them an enthusiastic figure to cheer with. The mascot and logo will also increase the college's reputation and appearance around the country. Students are encouraged to submit appropriate proposals that illustrate the community atmosphere.
In deciding on a college mascot, the task force needs to pick an appropriate and acceptable mascot that fully represents what the college community wants. The task force needs to deeply consider proposals from students and decide on a mascot that brings pride to the community. The mascot will not only represent student athletes but also the campus community. Students can use this opportunity to get involved and set the tone for the college's future.
As the college prepares for the opening of the Athletics and Events Center and transitions to the IC20/20 vision, the mascot is another example of how the college is looking toward the future. Naming a mascot is just another step in shaping the college's history.