Well, here it is. It's hard to believe, but it's time to face the fact that this is the last time my name will appear in The Ithacan. It's been a wild ride, and I'm honored to have helped bring sports news to Ithaca the past four years.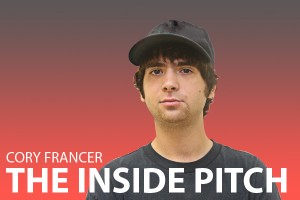 I honestly can remember like it was yesterday, sitting at The Ithacan rush night, determined to join the sports section but never expecting to become so involved with the paper that I'd eventually edit the sports section and have my own column.
Over the years, I've covered some stories that really have made me love what I do. We always joke in The Ithacan office that it's hard to fill the paper each week with news about Ithaca College, but with sports that wasn't the case.
My freshman year, when I was just learning what it means to be a college journalist, I had the honor of telling great stories about great athletes and citizens of our community. I'll never forget the way the members of the women's cross country team spoke about their beloved captain Rachel Blasiak '07 and how much she meant to them as a role model.
It seems that with every team I covered during my tenure here there was a player like that. But when I covered the women's soccer team during their incredible 19–4 run in 2007, it was hard to really pinpoint one essential leader of the team. Instead, this group truly proved how when a team comes together and operates as a unit, it is a perfect recipe for success. Sure graduate student Chelsey Feldman broke scoring records, but without help from other dynamic athletes, including Colleen Masterson '08, senior Winnie Adrien and senior Amy Scheffer, the team's success would not have been possible.
When I covered the baseball team, I got to report on some of the best pitching South Hill has ever seen. That year Nick Sottung '08 sat players down left and right with his nasty off-speed stuff, setting strikeout records in the process. On top of that, it was the final season for Shane Wolf '08 and Bryan Gardner '09 who have been playing professionally since then.
Then came men's basketball. The 2008-09 season was an incredible team and group of people to cover. A 24–3 record and NCAA tournament berth, and I got to be on the sidelines for the whole show, reporting on the final seasons for Sean Burton '09, Jeff Bostic '09 and Brendan Rogers '09 as they packed Ben Light Gymnasium night after night with screaming fans.
It's impossible to sum up my entire experience with The Ithacan in this small space, but, believe me, I wouldn't trade it for anything in the world. It's been an honor to write for you all. I hope you have enjoyed reading it as much as I've enjoyed writing it.