As part of the IC20/20 plan, all schools at Ithaca College will come together to establish a core general liberal arts education. As long as it doesn't take away from the culture of the professional schools and departments, the initiative should give students more of an interdisciplinary education.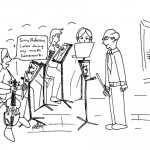 The initiative will include scheduled advising sessions, mandatory academic writing courses, first-year seminars and portfolio requirements.  Greg Woodward, interim provost and vice president of academic affairs, said all of the schools have expressed approval of the plan, acknowledging that there is work to be done on details and specifics if the plan is approved. Having core general education requirements will engage students in general course work rather than make it seem like an obligation. By including "themes" in the coursework, it will also allow students to take classes that they are interested in.
By including a core general education requirement, the college needs to make sure it doesn't take away from the atmosphere of professional schools, such as the schools of communication, business and music. The core requirements shouldn't come ahead of production or performance classes — courses that will give students more of a hands-on education in their chosen area of study. Having professional schools and departments is what makes the college stand out from other liberal arts schools. The IC20/20 committee needs to make sure that students are not only well-rounded but still prepared in their areas of study when they graduate from the college.
The initiative for general education requirements will broaden students' education — as long as it doesn't take away from the professional education. Otherwise, students will be leaving the college unprepared in their area of study.