Besides initiatives to create a college brand, mascot and the new vision this year, Ithaca College is also forming a wall of silence between the administration and college community.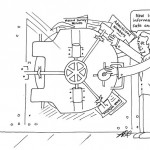 The administration has withheld information throughout this academic year. In the fall, President Tom Rochon said the raw data from The Chronicle of Higher Education's "Great Colleges to Work For" survey would not be released to the public. As the college moved forward with the mascot selections, the task force told The Ithacan the complete data gathered from that survey would not be released to the community either.
When The Ithacan requested the distribution of grades and the average grade point averages of students since 1999 to assess the presence of grade inflation, we were denied the information — even though in 1999 under the presidency of Peggy Williams, we were given the numbers going back 30 years. But information has been denied to The Ithacan continuously. Last year, the college would not release enrollment numbers by the schools. Like any other newspaper, The Ithacan represents the community. We strive to use this information to analyze issues that affect the community.
When the college doesn't provide information, it looks like there's something to hide. In situations such as the mascot and workplace survey, the college deserves to know the results. These are situations that community members were involved with and will be affected by. Many times, the college says numbers and survey results will not be released because the administration does not want competitive institutions to make use of the information, but it deprives those who go here.
The administration needs to be more open with releasing information. If there is no discussion and if these walls are not raised, the campus community will be left in the dark.