Before Ithaca College's newest vision, "IC2020" is finalized, President Tom Rochon's administration must be on the same page regarding task forces for the college's future.
At the all-college meeting Aug. 19, Rochon unveiled the latest plans for the college's future. Rochon's new vision focuses on the college's academic mission and student learning. The "IC2020" vision is in its early stages and will be presented to the board of trustees Sept. 11. Rochon said at the meeting that this is "not the year for another task force or report. It's the year to develop the plan on which we will actually act over the coming 10 years."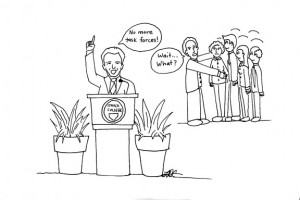 But Greg Woodward, interim provost and vice president of academic affairs, and Stan Seltzer, associate professor of mathematics and chair of faculty council, said there will be a task force co-chaired by a faculty member and a dean to receive feedback on the "IC2020" plan. If the college wants to include an initiative in the plan that already has a task force associated with it, such as the diversity task force Rochon created last year, that task force will be used for the new vision.
Rochon is correct that the college has had task forces and committees piling up for years. In the past year, Rochon has established a task force for "creativity and innovation." Task forces are valuable for receiving faculty and staff feedback but have done very little to provide tangible results and changes in the college's past.
Woodward said he and Rochon will present the plan to the college community before Oct. 1. Before they present a concrete outline of the new vision, there needs to be better communication between the administrators concerning the role of task forces. Then the administration needs to outline specific goals and deadlines for the task forces to ensure that action will be taken toward the vision. If task forces are going to be used, the administration must make sure action is taken after the task forces receive feedback. If communication starts at the top, it can trickle down into a plan that really creates an academic institution that is engaged with the needs of the college community.