After the softball team fell one win short of returning to the NCAA Championship to end its 2011 season, it adopted a new philosophy emphasizing the fundamentals of the game.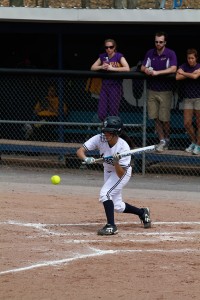 The Blue and Gold have adopted what junior captain Molly O' Donnell calls a "playground" philosophy, which involves playing the game without dwelling on mistakes.
"We play best when we're relaxed," O'Donnell said. "We think back to the times when we were on the playground or playing in our backyard and it helps us play better."
O'Donnell, who hit .287 with 16 extra-base hits at the plate last season, is one of four returning starters from last season's squad, which finished with an overall record of 31–14 and an Empire 8 Conference mark of 12–2. Junior infielders Jennifer Biondi and Adrienne Walters also contributed to last season's success, hitting .329 and .291, respectively. Walters also boasted a perfect fielding percentage of 1.000.
Senior infielder Annmarie Forenza, who had a team-high 78 assists last season, will miss the 2012 season because of a concussion. Forenza said she is confident the team's infielders can step up in every situation during her absence.
"We're all good athletes and pretty adjustable when we need to be," she said.
Sophomore pitchers Jillian Olmstead and Sam Bender will be called upon to replace graduated seniors Britt Lillie '11 and Alison Greaney '11, who combined for a record of 21–9 in the circle last season to go along with batting averages of .338 and .277 respectively.
Olmstead started 10 games in her freshmen season, finishing 7-3 with a team-best 1.16 ERA. Olmstead said being able to pitch in both the regular season and postseason helped her realize she has to be part of a collective effort to win.
"Last year as a freshman I was just excited to play," Olmstead said. "This year, everything I do has to be team centered."
Head Coach Deb Pallozzi said she doesn't expect a dropoff in the team's pitching, saying the two sophomores are in a similar situation to Lillie's when she stepped in the starting role to replace Nicole Cade '08.
"It's just their turn, and it's the natural process that occurs every few years," she said. "I'm hoping these two take it on and excel."
The Bombers also enter the season with 14 underclassmen on the roster — eight freshmen and six sophomores. Pallozzi said the incoming freshmen bring a lot of new and positive energy to the team environment.
"The players have really begun to react and communicate quicker with each other without even playing any games yet," she said.
The South Hill squad will begin its 2012 campaign at the National Training Center in Clermont, Fla., playing 10 non-conference games in eight days beginning March 11.
O'Donnell said the team has the most competitive athletes she has seen in previous seasons. She said the team brought back a warm-up it has not used since 2007, playing a game similar to ultimate frisbee except with a tennis ball in between practices.
With the competitive atmosphere, O'Donnell said the one word to describe what it will take for the Blue and Gold to return to the national stage — fight.
"We really push each other and ourselves, and that's been the staple of us so far," she said.