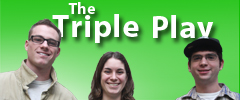 When the weather is this nice in Ithaca, Major League Baseball is usually a month into its season. That does not seem to be the case here in 2010, and while western New York often stays cold this time of year, I have been nothing but hot with my preseason predictions the last couple of years. I got 5/8 playoff teams last year. Lets keep that streak going…
AMERICAN LEAGUE:
East: The American League East will once again be the toughest and deepest division in baseball. While the Yankees may have gotten slightly worse offensively, their lineup is still as good or better than any team in baseball. I think the Curtis Granderson trade was a steal for the Yankees. Expect Granderson to put up big numbers in that ballpark and in the Yankees potent lineup. He should have no problem putting up Johnny Damon-like numbers or better. And remember how good Mark Texierra was once Alex Rodriguez was plugged back into the Yankee lineup. This year Arod will be playing from the beginning of the season. That's a scary thought for AL east competitors. The Red Sox did just about everything they could to try and counter the Yankees. But honestly, I think they tried a little too hard this offseason, and they really only improved significantly in one area, and that is pitching. The Sox best move by far this offseason was signing John Lackey. They got him for A.J. Burnett numbers, and he is clearly better than Burnett. The only thing I was not happy about with that signing was the fact that it was a five-year deal. The last couple years on that contract may be tough ones for a Lackey who will almost certainly be deteriorating. I would have liked to seen a three-year deal, four tops. Other than the Lackey signing, I think the Red Sox completely overcompensated. I do not like the Scutaro, Cameron or Beltre signings. While Scutaro may have been the best free agent available, I think he is average at best, so I am not excited for him to be the Red Sox long term shortstop. Cameron is out of his prime, and I'll never be happy about paying a guy seven plus million a year who strikes out 150 times a season. Beltre is coming off an injury-rattled season, and I think what they could get from him still remains to be seen. If anything good came with those signings, it was an upgrade defensively, but not as much as you would think. They lose the 36 and 119 from Bay and replace it with Cameron's bat and a defensive upgrade of Ellsbury in left. But in reality, Fenway is one of the easiest left fields in baseball in terms of range. Heck, Manny could play okay out there (it was on the road that he made things most interesting). They made a slight defensive upgrade if any in center with Cameron over Ellsbury, and a significant defensive upgrade at third with Beltre. But what was the Red Sox biggest flaw in 2009? Not enough offense, and I don't think they really got better offensively. If the Red Sox have anything really going for them, it's that on paper, they have arguably the deepest starting staff in baseball. But even with that being said, Beckett has not really had an ace-like season since 2007, and is still remains to be seen whether project DiceK will pan out or not. If the Red Sox are behind by double digits in September, I wouldn't be surprised.
Prediction: Yankees
Central: This is probably the most wide open division in baseball and could possibly be the most competitive. I think the Twins, White Sox and Tigers all have a case for being the best team in the division. The biggest thing that worries me about the Tigers competing for the division is their starting pitching. It doesn't quite match up to the Twins and White Sox rotations. I don't think Verlander is going to put up the same numbers he did in 2009. I like Porcello and see him being the most consistent pitcher on that staff, but beyond that with Scherzer, Bonderman and Willis, it is unclear what they will get. The lineup is solid if Maglio Ordonez can put up better power numbers and if Austin Jackson proves he can hit at the major league level. I really think this division will end up coming down to a two-team race down the stretch. I think the Twins have a better lineup than the White Sox. Juan Pierre is going to be a big part of that Chicago offense, but I think offensively, the White Sox have a lot of question marks still (Rios, Quentin, Andruw Jones, Alexei Ramirez). Minnesota's offense is deep. But, I give the slight edge in pitching to the Sox. Peavy, Buehrle, Floyd and Danks could do damage in that division. For the Twins pitching, look for Francisco Liriano to have a bounce back season. He could possibly even wind up being the Twins closer by season's end with Nathan out for the year. I think this will be really close, but the Twins always seem to find a way to win. With the MVP and opening their new stadium, I think they will find a way into October in 2010.
Prediction: Twins
West: This is also a very intriguing division given that the Angels seemed to get worse, and the Rangers and Mariners got better. Everyone was all over the Mariners last offseason and the Angels, who everyone thought would have a down year, ended up atop the division come October. I see very similar things happening this year, although I think this division will be much tighter in 2010. The Rangers offense could be dangerous if Hamilton returns to 2008 form and if Ian Kinsler can play a whole season. Nelson Cruz and Julio Borbon are two young players who should be fun to watch this season. But Chris Davis and Vlad are both question marks offensively for Texas. If Rich Harden could stay healthy for an entire season for the first time in his career, he could be an impact player in that division because we have seen time and time again that it is pitching that always holds the Rangers back. Everyone seems to think Seattle is there, but I am still not convinced. They have arguably the best 1-2 punch in the game with King Felix and Cliff Lee if they can stay healthy, but offensively beyond Ichiro, Figgins and Lopez, they don't have much depth in that lineup. I don't think they are there quite yet, but they should show a significant improvement from 2009. Everyone is down on the Angles, but in my opinion, this is still the team to beat in the division. They won it last season by ten games, and I don't think the moves this offseason have closed the gap more than ten games. The Angels may have lost their ace in Lackey, but they still have the deepest rotation in the division. Look for Saunders to put up big numbers in 2010. Offensively, they lose Figgins, but Hunter wasn't healthy for all of 2009. He is back healthy, and Matsui will put up better numbers than Vlad this season. Also, look for Kendrick to have a bounce back year. The Angels will play a lot of close games, but they are the most efficient team in the division, and they have the best manager in the league.
Prediction: Angels
Wild Card: Back five years ago, this was the season the Rays looked at and said, "This is when we will compete." They surprised the baseball world and probably surprised themselves too in 2008, but this was the season the Rays planned for. They have two of the best players in the game in Longoria and Crawford. Bartlett and Zobrist have shown they can hit the baseball. Their 1-2-3 has potential to be very tough with Shields, Garza and Price. I think Price will have a dominant season. I see the Rays winning 93 games and sneaking back into the playoffs.
Prediction: Rays
NATIONAL LEAGUE:
East: The Phillies are the American League team of the National league. I expect Halladay to have a field day in the National League, but this division has potential to be very tight. The Braves and Marlins both have potential to be 90+ win teams. With the depth in the Phillies lineup, it is hard for me to imagine them losing this division over 162 games unless injuries hold them back. I think this is the second best lineup in baseball behind the Yankees. I expect Hamels to return to 2008 form. The only concern for the Phillies could be their bullpen. The Braves are a dangerous team as well and will be very fun to watch. Hanson, Jurrjens and Hudson have potential to be the toughest 1-2-3 in the NL. I am not sure what we will get from Hudson coming off an injury-rattled season, but he has shown the ability to be dominant throughout his career. Offensively, the Braves have some question marks. As consistent as he has been, Chipper Jones is definitely on the decline of his career. Who knows what you will get from Troy Glaus, and Matt Diaz in left field has never had a season with more than 400 at bats. I can't wait to watch Jayson Heyward, who I think is the favorite for rookie of the year. Billy Wagner should be a force in the bullpen after showing he was back to Wagner form last season in Boston. The Marlins have the talent to compete as well. Johnson, Nolasco and Sanchez have the talent to put up big numbers for that staff, and Hanley Ramirez, Dan Uggla and Chris Coghlan will provide the pop in the lineup. The Marlins always seem to find a way to hang around. Don't be surprised to see them in the race come September.
Prediction: Phillies
Central: I think this may have taken over the west as the weakest division in the NL. With that said, it is still clear to me that the Cardinals are the team to beat. Carpenter is coming off a great year in 2009 after being injured in 2008. Pujlos is the MVP. With those two guys they will almost certainly be in it throughout the season. Not to mention the fact that they got Holliday to come back and Ryan Franklin has been a force in the pen. I'd say the biggest challenge for the St. Louis will be the Cubs. I expect Soriano and Soto to put up much better numbers than they did in 2009, but their lineup is still not as good as the Cardinals. What it will come down to for the Cubs is their pitching. Zambrano has been incredibly inconsistent the past two seasons. Dempster was brilliant in 2008 and then just average in 2009, and this team needs Ted Lilly to be healthy. If those three guys can pitch to their ability, the Cubs could hang. As for the rest of the division, the Brewers have some pop with Braun and Fielder in the middle of that lineup along with Weeks coming back from injury, but they are lacking pitching. Beyond Gallardo, the Brewers have very little depth in that starting rotation. I expect Randy Wolf to struggle this season. The Astros do not have enough offense, and I think Oswalt will struggle. I expect Wandy Rodriguez to put up big numbers, but beyond that, very little things to be happy about in Houston for 2010. In Cincinatti, I think they are close to contedning, but just not quite there yet. Give Votto and Bruce another year and let Arnoldis Chapman get comfortable in the majors. Look for the Reds to be a contender in the next couple years.
Prediction: Cardinals
West: While the Giants have the two-time reigning Cy Young in Tim Lincecum, they still lack the offense to get to the next level. Why does no one know about Matt Cain and how well he has pitched the last two seasons? It is because the Giants don't hit he baseball. Yes, Pablo Sandoval and Freddy Sanchez can put up numbers, but the Giants need more than that to contend against the depth the Dodgers and Rockies have in their lineups. The Rockies lineup may be the second best in the league behind the Phillies. Barmes showed he could hit for power last season, and Carlos Gonzalez will be good in the leadoff spot. Tulowitzski had a great season in 2009 after a below average 2008, and lets not forget these guys will be hitting around Todd Helton, who may not put up the same power numbers, but knows how to hit for average. I think the Rockies will be putting up all kinds of runs, especially in Coors field. The Dodgers will be looking to defend their division championship, and I think because of how deep their lineup is, they will hang for most of the year. I see Manny having a .310/32/110 type season, and I expect Furcal to put up better numbers than he did in 2009. The biggest problem with the Dodgers is their starting pitching. I think Kewshaw is overrated, especially given his struggles pitching on the road. I don't think he will put up great numbers this season, and Billingsley is not an ace. I think the Dodgers will keep it close, but I see them falling just short.
Prediction: Rockies
Wild Card: Two words. HANLEY RAMIREZ.
Prediction: Marlins
AWARDS:
AL MVP: Evan Longoria
AL Cy Young: Felix Hernandez
AL Manager of the Year: Joe Maddon
NL MVP: Hanley Ramirez
NL Cy Young: Roy Halladay
NL Manager of the Year: Fredi Gonzalez
WORLD SERIES:
Rays over Marlins
Must be that Florida sun 🙂