Junior Amanda Rissmeyer was apprehensive when she first came to Ithaca College. As a lesbian athlete who would be competing on the field hockey and women's indoor track teams, she worried about facing stereotypical reactions from her new coaches and teammates.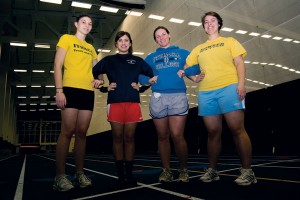 "Playing field hockey my freshman and sophomore years was difficult," Rissmeyer said. "There was no one else on the team that was out, so I was nervous and a bit insecure."
Rissmeyer said after she came out to her teammates on the women's track and field team in the winter of 2010, her experience on both teams became an overwhelmingly positive one.
"I told my close friends and teammates, and then other people found out through the grapevine," Rissmeyer said. "I made a lot of connections with people because I shared something so personal, and people didn't treat me differently."
Despite general acceptance of lesbian, gay, bisexual and transgender athletes within teams, there are still pockets of prejudice on campus against athletes who are out.
Senior thrower Anna Lawrence said though her experience as a lesbian athlete has been relatively positive, athletes who are of different sexual orientations still face  a certain degree of discrimination on campus. She said one way negative images of LGBT athletes are perpetuated is the way some sports are perceived as masculine, while others are more acceptable for women to participate in.
"A lot of people just assume that women who play sports like rugby or basketball are lesbians because they think the game is 'tough,'" Lawrence said. "Transgender athletes also have problems because people think they can't compete fairly as men or women."
Lauren LaPointe '11, a former rower on the women's crew, said her close competition with men's crew showed her that some teams are reluctant to socialize with other athletes that are or are perceived to be of a different sexual orientation.
"The men's team didn't really take to them or to me, and a lot of the time I would hear them making comments about people behind their backs," LaPointe said.
Andrew Whitson '11 said he was also subject to intolerant language as a gay athlete on the men's club volleyball team, with new players joining the team at the beginning of the fall semester.
"It mostly happened around the beginning of year when the new freshmen that hadn't been on the team for a while would come to try out," Whitson said. "Guys would make comments like 'no homo' and 'I don't swing that way' that made LGBT people like me very uncomfortable."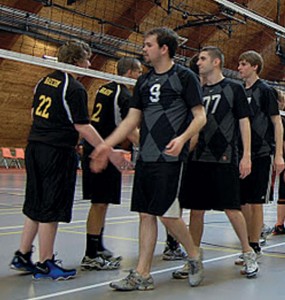 Though Whitson said homophobic slurs would often disappear as the season went on, he said he did hear about more blatant instances of homophobia on other varsity and club teams, especially in regards to transgendered athletes.
The Alliance of Gay and Straight Student Athletes began at the college by aiming to increase awareness of issues LGBT athletes face as well as provide support for players experiencing difficulties related to sexuality.
Lawrence, who is currently the club's president, said it was difficult for the alliance to become involved in the campus community because the issues surrounding LGBT athletes coming out were often overlooked.
"The AGSSA is still very young," she said. "Starting any group like this from the ground up is difficult but even more so because this topic is still rather taboo. In some sports, it's still really not OK to do anything out of the ordinary in terms of gender."
Lis Maurer, program director of the college's Center for LGBT Education, Outreach and Services, said though discrimination against LGBT people is more subtle in sports, its effects can be just as devastating as in other areas.
"Sports is one of the last areas where homophobia comes up in very direct ways that may prevent people from participating in a sport or bringing their true selves to the field," Maurer said.
Maurer, who is also the adviser of the AGSSA, said student interest in starting the organization increased after the college hosted Sport, Sexuality and Culture, an international conference held in April 2009. John Amaechi, the first NBA player to publicly come out as homosexual, was the  keynote speaker at the conference.
This year's theme of the LGBT Center's annual film series, Out of the Closet and Onto the Screen, featured documentary films that told stories of the obstacles LGBT athletes faced at collegiate and professional levels. Maurer said it was difficult to find enough movies made about LGBT athletes to show until this year. The monthly showings for the Fall 2011 semester ended Dec. 1, and the Spring 2012  screening dates are still to be determined.
Whitson said the AGSSA should push the administration for more supervision of coaches and tolerance training programs that wipe out the stigmas against LGBT athletes.
"So much is changing today in terms of sexuality and gender, and these kids should be allowed to play the sports they love," he said.
LaPointe said most negative attitudes toward LGBT athletes are born of fear and lack of knowledge. She said the LGBT community must be willing to persevere and educate the public against intolerance.
"Maybe it's unfair that we should face this negativity and be forced to educate those around us, but it's better to be forced into changing the world around us than to walk through life never changing anything," she said.