Lacrosse has always been embedded in senior attack Jay Lucas' life, but an incident early in his college career threatened his chance of playing the sport.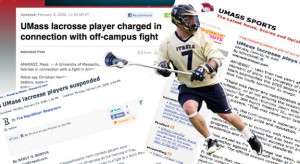 When Lucas was a freshman on an athletic scholarship at the University of Massachusetts-Amherst, he and seven of his lacrosse teammates were at an off-campus house party when tensions between the players and the homeowners escalated. When Lucas and his teammates were asked to leave, they became involved in a physical altercation, which led to eight players being suspended and three players being legally charged with physical assault and battery.
The three players were not prosecuted and Lucas was not charged. Lucas was suspended from the team for the entire 2008 season, three days shy of the regular season opener.
The incident was the climax of increasing pressure Lucas felt as a Division I athlete.
"It was totally different," Lucas said. "It's time consuming, and it's a full-time job."
Lucas found himself playing lacrosse six days a week and sometimes waking up for 6 a.m. practices in the freezing cold New England weather. In addition to athletics, Lucas was required to attend a mandatory athlete-only study hall for at least eight hours a week.
Lucas said the high status of the UMass lacrosse players on and off campus made him and his teammates feel like they could get away with more than non-athletes.
"You kind of build an ego when you live there," Lucas said. "All of us freshman were living together, playing lacrosse together and we thought we were really cool."
Lucas said he wanted to ignore the flurry of media reports from outlets such as ESPN, which said the players' actions had tarnished the program's image in the wake of consecutive winning seasons.
"A lot of it was made up and rumor based," he said. "So I tried to not pay attention to it."
Looking back on the incident as a whole, Lucas said his immaturity led him down the wrong path.
"We made a couple bad decisions that night, and we paid for it," he said.
The team finished 5–9 that season, only two years after winning the National Championship. Eight of the 10 members of the freshman class left the team after the 2008 season, including Lucas.
The former Minuteman decided to take a semester off and return home to think about his future. He wasn't sure where he would go, but he knew it would not be UMass. He said he was certain he still wanted to play lacrosse.
"Lacrosse was something I was not ready to give up," he said. "It was what got me into college and what I believe ultimately led me to enroll at Ithaca College."
Lucas wanted to get back on the field at a Division III school because he wanted to be able to balance his education with playing lacrosse and having a personal life.
After reaching out to multiple Division III schools, Lucas came in contact with Head Coach Jeff Long.
Long said he heard great reviews about Lucas and was looking forward to giving the former Minuteman a new home as a Bomber.
"Every kid should have a second chance," Long said. "We all make a mistake. You should be able to get back on the horse and try it again."
Lucas played in the final four games of the 2009 season after transferring to South Hill for the second semester of his sophomore year, scoring six goals. He picked up a major in recreational management and enrolled in classes in the School of Health Sciences and Human Performance.
Lucas has impressed his teammates with his offensive skills in his second full season as a Bomber, scoring 13 goals and tallying 17 assists. His quickness and agility allow him to shake defenders and fire shots that hit the back of the net before the opposing goalie can see the ball leave his stick.
But Lucas' teammates also see the maturity he has gained after the UMass altercation.
Senior captain Mike Silipo said the incident made him realize how quickly the privileges of playing lacrosse could be taken away.
"It brought him down to earth and got him grounded," Silipo said. "It made him realize that you can't take anything for granted."
Lucas said the incident has helped him become more focused on team goals than individual ones.
"I've become a much more unselfish player, much more win-orientated," he said. "If we win, I don't care if I have a goal or an assist."
Long said Lucas has established himself as a go-to teammate in all situations.
"People look to him and feed off his energy level," Long said. "People look to him for guidance for things that relate to lacrosse and things that don't."
Freshman Jake Long said Lucas has built high morale into the team. This was most evident in the second game of the year March 14 against New England College, when Lucas dodged a defender, took the ball through the arc unassisted and ripped home his third goal of the year.
"He jogged off the field with a big smile on his face and said, 'We got this all day,'" Jake Long said. "It really boosted everyone's confidence."
A few offensive series later, Jake Long scored the next goal of the game on a pass from none other than Lucas. The Bombers ended up winning the game 13–4.
With the Empire 8 tournament this weekend in Rochester, N.Y., Lucas said he is embracing his leadership role on the team and using his fear of failing as motivation to meet the team's expectations.
"It's not all about the points to me," he said, "I just want to win games. People expect me to be the best player on the field, and I don't want to let them down".