The swimmers on the women's swimming and diving team propelled their way to strong finishes in individual and team events at the NCAA Championships from last Wednesday to Saturday in Indianapolis, Ind.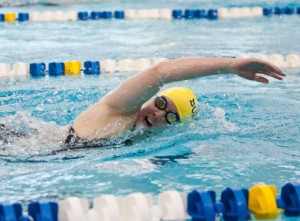 Before competing at the national title meet, the South Hill squad experienced a 24-day break from meets during which they revamped their training.
Head Coach Paula Miller said each swimmer reacted differently to the fluctuated levels of activity, but understood they needed to conserve energy to do well in all the events at the national level.
"We're just a different team, and we had to approach our strategy in a much different way," she said.
Miller said she increased the yardage the team swam in the two weeks following the Upper New York State and Empire 8 Championship meet Feb. 22-25. She then slowly tapered down the swims during the course of spring break.
The team's lone diver at the meet, sophomore Korie Fackler, said her preparation for the national championships was not much different from past meets.
"I actually didn't learn any new dives this season, so it was a lot of repetition and working out all the little things and getting comfortable with all my dives."
Fackler, who placed fourth in the 3-meter dive, said the noise from the spectators at the meet was something the South Hill squad had to adjust to.
"When I'm going through my rituals, I'm mostly by myself listening to my music," she said. "It was different having just the crowd cheering and not the familiar voices of my teammates."
The Bombers' 400-yard medley team of freshman Kylie Bangs, junior Carly Jones, junior Madi Sherry and sophomore Elizabeth Gawrys was originally seeded 24th out of the 25-team field, yet was able to swim its way to a 13th-place finish.
Jones said overcoming the low preliminary ranking eased the underclassmen's nerves they had going into the meet.
"That was definitely a great accomplishment," she said. "It boosted the younger swimmers to show what they could do on a big stage like that."
Jones also triumphed over some personal grief during the meet, as her uncle, one of her greatest supporters, passed away. Despite receiving the sad news, Jones said she decided to stay with the team and compete because the team needed her for
additional motivation.
"I was there to do a job — to get things done," she said. "My parents told me that he would want me to do well and push through that."
Fackler said Jones' 23rd-place finish in the preliminaries of the 200-yard breaststroke has motivated her to outperform national competitors throughout her career.
"I know going into next season will push me to get there again and keep doing better, and I deserve to go the next two seasons," she said.