The match was tied 0–0 as junior Hank Penree stalked, bear-like, around his opponent. As he breathed in, his muscles flexed and stretched across his shoulders, making him look almost double his size. Then it happened.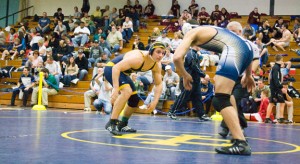 He impressively fought his man to the ground with a swift, brutal take down, and in an instant, Penree was winning 5–0 and had his 197-pound opponent on his back in the quarterfinals last weekend at the Ithaca Invitational in Ben Light Gymnasium.
It's not surprising that he is winning, considering Penree once had a full scholarship to wrestle for Division I North Carolina State University. Penree's early success culminated with him winning the New York State High School Wrestling Championship at Frankfort-Schuyler High School in Frankfort, N.Y., compiling a 161–17 record through five varsity seasons on the wrestling mat. He also earned all-state defensive end honors on the football field.
Penree said North Carolina State's pre-med academic program and its athletic environment initially wooed him.
"Their sciences and mathematics were awesome," Penree said. "And you could be 10 miles from the stadium and just feel the noise."
But midway through the 2009 wrestling season, after Penree had amassed a 7–5 career record at North Carolina State, the Division I honeymoon turned sour. Penree said there wasn't a specific event that occurred but rather a buildup of issues.
"The problem was when wrestling overtook academics," Penree said. "Now wrestling wasn't fun. Now it was just a job. The coaches didn't have priorities straight. We had kids dropping out because they were failing — people that would go to school for four years without a degree."
Penree began searching for schools and looked at Utica College, the University of North Carolina at Chapel Hill and Ithaca College because they had his intended field of study and an acceptable balance between academics and sports.
One reason Penree said he was drawn to the college was because of the physical therapy doctoral program where students take general liberal arts classes for their first three years, and then partake in graduate field-work study for the final three years.
"I liked it a lot because of the three and three program, the wrestling program, the coaching staff," Penree said. "Coach Nichols, he's a great guy. He made it clear that if you need a day off for academics, we're here for academics too and not just wrestling. It's just a great opportunity to be able to come to a school where you can compete with such a top-notch team and still have one of the top academic schools."
Though academics was a primary concern for his transfer, Penree still has passion for wrestling.
Penree's wrestling style is not flashy, but it's effective. He wrestles like a champion boxer — he hangs around in the match and in the end is able to overpower and endure his opponent. Penree said the aspect of being able to bear all of the pressure of the outcome is what has drawn him to the sport.
"I like the fact that it's you and another guy," Penree said. "No excuses. No one else to blame. If you win, it's because you won."
As Penree's thick, sweat-glazed arm was raised in the air to signify his quarterfinal victory Saturday, it was evident he had found his ideal place. Walking off the mat, Penree was greeted by his younger brother Andrew, who joined him at the college and on the Bomber wrestling team this year after transferring from SUNY-Albany where he had been wrestling for the club team. Andrew, a clinical health studies major, said he also was swayed by academics and the fact that he could be reunited with his brother.
"It's definitely had its positives that I'm with him," Andrew said. "It's going to help us both succeed."
Though Penree is one year older than Andrew, Penree was held back in first grade and the two brothers grew up together in the same class. They graduated high school with a class of about 65 kids and wrestled on a team of only five athletes. Even though Penree's town lacked in the number of athletes on the team, he was still backed by a strong support — his family.
Penree grew up surrounded by six siblings: Megan, Andrew, Jake, Amy, Pete and Dan, two of whom — Pete, 28, and Amy, 27 — are fighting overseas.
"I mean, 'Afghanistan' is what he [Pete] tells us, but we don't really know," Penree said. "We're just hoping [they] come back safe."
From the beginning, the Penree family has always looked out for one another as their single mother Michelle had the task of raising them on her own.
The brothers grew up as partners on the mat,  wrestling each other during every high school practice because they were the only heavyweight competitors on the team. This relationship ultimately translated to a stronger bond out of competition.
Michelle said there was an instance when Andrew needed to receive treatment to remove dead skin for burns on his feet, and Penree was there in support.
"When Andrew screamed, Hank attacked the doctor," Michelle said. "And then all the rest ganged up on him too. We did have to find a new doctor."
Penree said having his brother with him through his life has been beneficial on and off the mat.
"Every practice we would go at it, and that's what made it so good," Penree said. "That's what made us work harder and harder. There'd be practices where we'd fight each other, but then we'd go home, and we'd be fine. We're brothers, we're a year apart and we're in the same grade. We're like best friends — we do everything together."
As both Penree and Andrew continue to adjust to a new school and team, Nichols said he has high hopes for both of them in the 2010-11 season.
"[Hank] works hard," he said. "We're hoping for him to be a big part of this team. Those guys can really help the team and really help out the heavyweights."
The heavyweights have been the less dominant part of the squad historically. Though the Bombers rolled to a third consecutive victory in the Ithaca Invitational, Penree's weight class, 197 pounds, has only produced three individual champions in the past 27 years. Penree finished the tournament in a respectable fourth place.
Penree said he's looking forward to this season because of his new outlook and environment.
"We want to win a national championship, but at the same time we also want academic honors as a team," Penree said. "It's a nice balance. Wrestling here is fun."