When the soccer season ends, most players on the Ithaca College soccer team stay off the field until the sport resumes in the fall. But for two of the freshman sprinters on the men's track and field team, a full season of playing for the men's soccer team has helped them perform on the track.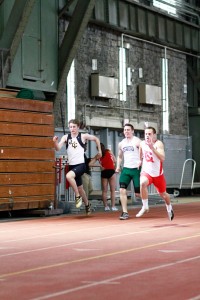 Freshmen Jake Willis and Brennan Edmonds are three-sport athletes, competing on both the indoor and outdoor track teams after soccer season wraps up in the fall.
Willis began playing soccer when he was 4 or 5 years old, but he didn't take up track and field until his sophomore year of high school at Gorham High School in Gorham, Maine. He took to it quickly, earning all-state honors while playing soccer.
Coming to Ithaca College wasn't a hard decision to make, especially because it had the sports media program he wanted, and he already had experience competing in both soccer and track and field.
Willis, a midfielder, saw action in three games for the Bombers this season but has made his presence known more on the track.
During the indoor season, Willis recorded several top-10 finishes in the 55-, 60- and 200-meter dashes and the long jump and was a crucial part of the Bombers' 4×200-meter relay team.
Edmonds played in 11 games for the soccer team this fall and has taken his play to the next level in track. He accounted for the several of the team's top-10 individual finishes in the 60-, 200- and 400-meter dashes, the long jump and the triple jump.
Edmonds said one of the reasons he took up track was to stay in shape for soccer. He said running allows him to work on skills the two sports share in common.
"One of the most obvious skills is speed, because in soccer you're moving both with and without the ball," he said. "Track is the same way because you're running at all times."
Senior sprinter and co-captain Max Orenstein said Willis' skills in multiple events and strong work ethic have helped him make an impact on the team. Orenstein said it was important to give freshmen like him playing time.
"He brings good value to a lot of events, particularly the 100-meter dash, the 200-meter dash, the long jump and the triple jump," Orenstein said. "In track, you don't have a starting lineup, so there's no real point to not having a freshman compete because they're just going to keep improving."
Edmonds took up soccer when he was 10 years old and track during his sophomore year of high school at Trumansburg High School in Trumansburg, N.Y.
Edmonds said one of the hardest parts of transitioning between the two sports is that track places less of an emphasis on agility.
"Soccer's a lot of short movements where you move side to side or up and down," Edmonds said. "In track, it's a continuous movement up and down."
Edmonds also said track requires athletes to take more risks in competition than soccer.
"It's easier in soccer if you're more confident in yourself because you can depend on your teammates for their abilities and you can always have them to blame if you don't play well," he said. "In track, if you don't play well, you can't blame anybody but yourself."
Edmonds said he made a smooth transition from soccer to track because he did it with Willis.
"It's good to have another freshman that's doing both because then you have common ground there," he said.
Since both athletes compete during three seasons, Edmonds said they can avoid exhaustion and manage their time efficiently.
"Time management's something I had to learn in high school, because I did the same thing there,"  he said. "It's something that comes with the territory, and I knew what I was getting into going in."
Heading into his first outdoor track season at the college, Edmonds is already leading off in the Bombers' 4×200- and 4×400-meter relays, but wants to work more on his jumps and performing better in the hurdles.
"Jumping, I can improve a lot," he said. "I haven't practiced that as much because I'm running when I could be jumping. I'd like to see myself do well in the 400-meter hurdles."
Willis said staying active and intensely competing is what motivates him to play on three teams.
"Track has made me faster and stronger every year that I've done it,"  Willis said. "It's really beneficial to be doing something year-round when all the other soccer players are sitting around in the offseason. That puts me one step ahead."