The attack position requires a mix of agility, quick hands and a soft touch. It is the attack's responsibility to execute goal-scoring opportunities the midfielders create.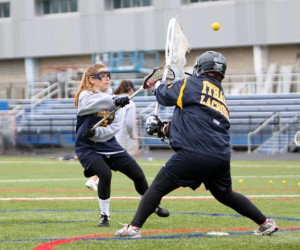 The women's lacrosse team has scored on 56 percent of its offensive opportunities this season, powering its way to a 6–1 Empire 8 conference record. Strong showings from the attack trio of sophomore Nicole Borisenok, sophomore Tracy Rivas and senior Ali DeCirce have scored more than half of the team's goals this year.
This year's team has undoubtedly found the back of the net in crucial situations. Borisenok and Rivas scored four goals apiece in a 16–4 win Sunday at Elmira College.
Head Coach Karen Hollands attributed the timely offense to a sense of familiarity that comes as the season progresses.
"Offense takes time to develop, and it's just a matter of it taking a little time to gel together and get real comfortable and figure out who's going to zig when and who's going to zag," she said. "And once they get that, then [the attack] open each other up a lot better."
Borisenok said she has developed a more open stance in front of the net, which allows her to shoot on goal in tight coverage.
"When I keep my hands back, it allows me to be more flexible and I shoot on net every chance I get out in front," she said.
Rivas said she focuses on her ability to elude defenders and adjust her shot in mid-air.
DeCirce, who has played in all but one game for the Blue and Gold, said she has been working more on shooting from the top of the crease.
Senior attack Katie Hurley said she has helped the younger attack adapt to a new formation that requires shorter strides and shooting off the fast break.
"I try to get them use to shooting from certain spots near the goal so we don't have to adjust our shots as much," she said.
Rivas said the attack has developed a routine for game situations that has helped to create positive chemistry between them. She said the attack unit's enthusiasm after they score each goal is a major part of their up-tempo playing style.
"When we score a goal, we make sure that we bring that energy and bring that intensity after every single shot and every single goal with each other," she said. "We scream. We make sure we celebrate after every goal so we keep the consistency up."
Borisenok said each player's style has enabled the Bombers to work off of one another and produce goal-scoring opportunities.
"Everybody knows Tracy is the fastest girl on the field, so what we like to do is cut through and give her a lane, whereas Ali has an awesome dodge and also has really good vision," Borisenok said. "So if you are open on the [8-meter line] she will not hesitate to feed you that ball."
The combination of Rivas' speed and DeCirce's vision have been working well for the Bombers, but it wasn't until Hollands gave Borisenok some advice that her shooting came into full force.
"We sat down [with Borisenok] and talked about how she doesn't need to be wide open to score goals," Hollands said. "We just needed to help her recognize that, and she got more confidence with shooting with pressure on."
Hollands said the offensive production will boil down to the players fully executing the desired offensive strategy, which varies based on each opponent.
"It really is about their ability to play a disciplined game plan and execute the offense as it's designed," Hollands said.