Senior Nick Sanko's first three years with the wrestling team have literally been an up-and-down, back-and-forth experience.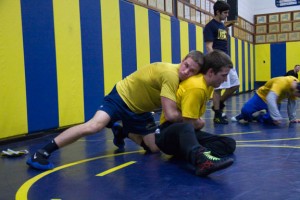 Sanko burst onto the wrestling team as a freshman, posting a promising 16–12 record in his first year on the squad. However, in the past two seasons, Sanko has been knocked out with two essentially season-ending injuries.
Sanko said those injuries are motivating factors that drive him.
"I work harder in the weight room to become stronger and prevent injuries," Sanko said. "I work harder in the wrestling room too because I know what it's like to sit out and watch."
During his sophomore year, Sanko separated his shoulder in preseason and would have needed surgery had it been any more severe. He was unable to compete in any matches that season.
Last year, Sanko battled a knee injury after tearing his meniscus in a practice leading up to the Ithaca Invitational. Though Sanko was able to wrestle in the tournament — reaching the finals and placing second at 157 pounds — he opted for surgery on the knee and the opportunity to return to the mat after a few weeks of recovery time.
However, the repaired meniscus ended up getting infected, and Sanko needed two more surgeries, effectively ending his season.
Nevertheless, he said the injuries haven't changed his perspective on wrestling or his style.
"I still go out and wrestle as I did before," Sanko said. "My style of wrestling works for me, and I don't want to change it."
Sanko's long frame allows him to wrestle with finesse, in a somewhat distinctive manner. He's able to rely on technical moves such as his favorite, a sweep single leg takedown – a snaking move in which the wrestler slides and drives into the opponents knee.
Senior Junior Amazan said Sanko's style is fluid and effective.
"If I had to describe it in word, I'd say smooth," Amazan said. "He probably has some of the best technique out of any wrestler I've seen. He just has a really smooth flow combined with really good technique."
This flow has allowed Sanko, who is prepared for his third year of wrestling given that he has junior eligibility because of missing a full year of competition, to make a smooth return to the mat this year.
Sanko has posted an 8–1 record this season, going 4–0 in dual matches. In the most recent National Wrestling Coaches Association poll, Sanko was ranked eighth nationally in the 157-pound weight class.
He said he's been concentrating on different methods to stay healthy throughout the season — such as avoiding leg squats, alternating between lifts that work on his shoulders and knees and focusing on explosive, plyometric-type workouts.
"I also try to avoid positions that may make me more susceptible to getting injured," Sanko said. "[Head Coach Marty Nichols] and I decided last year that I will not wrestle in all competitions to keep me fresh throughout the year and especially for national duals, conferences and nationals."
This year, though the Bombers' goal is to win a national championship, Sanko said he has different personal goals.
"First I need to get a starting spot and stay healthy," Sanko said. "I'm cutting a significant amount of weight this year so that should help. I have a competitive weight class with six other guys [on the team] going for the same spot. If I do start, top four at nationals or even a national championship would be my goal."
Sophomore David Foley, who wrestles at 165 pounds and is Sanko's partner during practice, said Sanko works day in and day out.
"[Sanko] brings a positive attitude and hard work ethic to practice every day," Foley said. "He comes motivated to make himself and everyone around him better."
Sanko said he can provide a strong support element to other teammates who have experienced injuries because of his personal drive to fight back from injury.
"I can help teammates battle back from injuries," Sanko said. "It's a real traumatic experience when the athletic trainer says you can't compete for an extended period of time. Mentally it can break you, and I don't want that to happen to any of my teammates."
Sanko, a clinical exercise science major, said he plans on returning to the college next year to earn his master's degree and wrestle his senior year of eligibility. He said his love for the sport is not the only thing driving him.
"I love being a part of the team," Sanko said. "I don't want to look back and regret not wrestling because of injury. After college, I'm done forever."