The baseball team had its winning streak snapped against the visiting University of Rochester YellowJackets today in a 7-5 loss.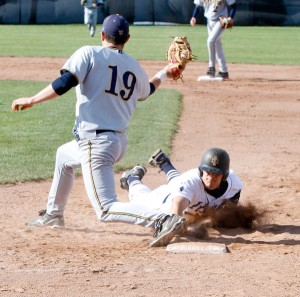 The Bombers had won seven straight games coming into today's contests and were 19th in Division III. The team is now 18—5—1 on the season.
The Blue and Gold took a 5–2 lead into the seventh inning before the YellowJackets tacked on two runs to pull within one. Rochester then scored three runs in the eighth to take a lead they would not relinquish.
YellowJacket sophomore pitcher Stephen Cool said his team's hitting and will were  keys to his team's victory.
"We hit the ball really well today," he said. "We got a lot of good hits, especially against some really good pitchers. And we battled back pretty well today, especially when we were down."
Freshman pitcher Andrew Sanders started for the Bombers and surrendered two runs on seven hits during six innings of work. Freshman pitcher Quinn Irwin and junior pitcher Ian Gaule relieved Sanders gave up a combined five runs during 1 1/3 innings. Senior pitcher Tucker Healy held the YellowJackets scoreless during the final 1 2/3 innings.
The University of Rochester used four pitchers to hold the South Hill squad to just eight hits. Junior Mike Zarella started on the mound for the YellowJackets and gave up just two runs on three hits during four innings of work.
Head Coach George Valesente said his team's lack of focus hindered it in the game.
"We made a lot of mental mistakes — several on the bases, several defensively," he said. "Those are things that generally have not been happening, but today they seemed to rear their head. The mental focus and aggressiveness that we normally have didn't seem to be there."
The Blue and Gold return to Empire 8 Conference play with a doubleheader Saturday at St. John Fisher College.