The baseball team played eight innings Wednesday on Freeman Field against rival SUNY-Cortland Red Dragons before the game was suspended due to darkness after with the score tied at 10 runs apiece. No decision has been made yet as to whether or not the teams will play the final inning.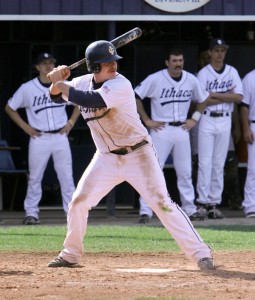 Freshmen pitchers John Prendergast and Jimmy Wagner struggled, giving up a combined ten runs, ten hits and four walks in the first 6 1/3 innings. Junior pitcher Pat Lemmo, freshman pitcher Quinn Irwin and senior pitcher Tucker Healy combined to keep the Red Dragons scoreless during the final 1 2/3 innings. The Red Dragons used four pitchers throughout the game, led by junior Zachary Badanes who pitched four innings in his start, letting in just two runs.
The Bombers trailed most of the game as visiting Cortland amassed ten runs during the first seven innings compared to just four for the Blue and Gold. Then, as the clouds covered the sun in the bottom of the seventh inning, the South Hill squad rallied to score five runs, highlighted by a two-out single off the bat of sophomore shortstop Tim Locastro that drove in two base runners and brought the team within one run of a tie. Then, in the bottom of the eighth, freshman designated hitter Vinny Gneo singled in the tying run.
Head Coach George Valesente said his team's effort in coming from behind was enjoyable to see.
"I'm very pleased with the fact the we didn't give up," he said. "We kept battling. We kept scrapping. We kept doing what we had to do to keep our rally going."
Cortland sophomore outfielder Chris Jackson led his team with four RBIs including a two-run home run. Locastro and Gneo led the Bomber offense, each of them registering three hits, two RBIs and two runs scored. Locastro said he is unsure how he feels about the game ending in a tie.
"I don't know if I'm disappointed or happy with a tie," he said. "It's tough to say."