The baseball team withstood a late rally by the visiting SUNY-Oneonta Red Dragons to come out with a 13–9 victory earlier today. The Bombers, ranked 23rd nationally, are now 12—4—1 on the season.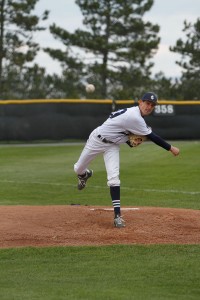 The Blue and Gold jumped out to an early 7–0 lead by scoring three runs in the second inning and four more in the third inning. By the end of the seventh inning, the Bombers held an 11–4 lead. In the seventh and eighth innings, Oneonta scored a total of five runs to pull within two before the South Hill squad added two more insurance runs in the bottom of the eighth inning.
Freshman pitcher Jimmy Wagner started for the Bombers, pitching 3 and 2/3 innings while striking out four batters. The team used four more pitchers to finish the game, led by senior Tucker Healy who closed out the final 1 and 1/3 innings.
Senior centerfielder Mike Rosenbaum and freshman designated hitter Vinny Gneo had three hits apiece to lead the Bombers, who totaled 17 hits on the day. Gneo and senior first baseman Mike Preite both drove in three runs. Rosenbaum said his team's offensive efforts were the key to victory.
"We hit the ball real well today," he said. "That was definitely our strongpoint."
Both teams committed a number of errors and walked numerous batters as they battled the wind and cold temperatures. The Blue and Gold committed four errors, five walks and two hit batters while the Red Dragons committed three errors, six walks and five hit batters. Head Coach George Valesente said the team didn't play up to its standards but made up for it with strong hitting.
"We walked too many people and were uncharacteristic making the errors we made today," he said. "But from an offensive standpoint, staying on top of it and adding runs was the key."
The Bombers have lost just one of their past seven games. The Blue and Gold returns to the diamond with a showdown against St. John Fisher College at 4 p.m. Friday on Freeman Field. Friday's game is the opener of a three-game weekend series between the top two teams in the Empire 8 Conference.