Jersey numbers are used to distinguish different players and for some are just a number on their chests. However, for others they offer a much deeper meaning. Numbers can be superstitions, just like a lucky pair of socks or a special hair band. Some numbers are passed down through generations, so the number represents a family legacy. For others, jersey numbers represent a part of their identity.
At the beginning of each season, the freshman have the option to pick their number from the available jerseys. Assistant Sports Editor Danielle Allentuck and Staff Writer Lauren Murray interviewed members of the women's basketball team to find out why they picked their jersey numbers.
For sophomore Allison Spaschak, the number 11 runs in her family . Her aunt Jill picked the number randomly when she began playing for Southern Regional High School in Manahawkin, New Jersey, in 1984. Jill then went on to play for New Mexico State University, where she wore number 11 on her jersey for the duration of her Division I basketball career.
Spaschak's uncles Jon and Tommy also attended Southern Regional High School and wore the same number before heading off to Nyack College. Her aunt Debby also wore the number 11 during her basketball career, both at Southern Regional High School and at a local community college.
When Spaschak began playing basketball in the first grade, she said there was no question of which number she would choose.
"My aunt [Jill] is so proud that she started this legacy with my family," Spaschak said. "It's a cool thing that has been passed down and something that everyone bonds over."
Spaschak's younger sister Anna is currently a junior at Southern Regional High School and a member of their varsity basketball team. She proudly wears number 11 just like the rest of the family and most importantly, like her big sister, whom she said she idolizes.
"My sister is my biggest fan. She watches all of my games and loves watching my team play," Spaschak said. "She loves the fact that we wear the same number."
Number 11 is the only number she has ever worn, and she said she can't imagine playing with a different number.
"I've been lucky that every team I've been on has had that number available. There's an emotional attachment to that number," Spaschak said.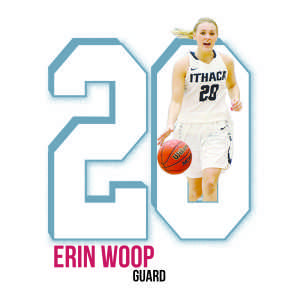 For sophomore Erin Woop, the number 20 is more than just a number. Twenty was worn by her grandfather, who played Division I basketball at Iona College and died when she was 2 years old.
"He never got the chance to see me play," Woop said. "I don't have as much information or memories as I would like because he passed away when I was so young. So I wear the number for him and think of him watching over me before every game."
Before coming to college, she wore number 32 during her high school basketball career at High Point High School in Sussex, New Jersey, because her father wore that number when he played varsity football in high school. Her sister also wore this number in high school during her stints on the basketball and soccer teams.
When Woop got to college, number 32 was taken, so she switched to number 20, something Woop said was a no-brainer.
"I wanted to keep something going with my family," Woop said. "My dad and grandpa were both good athletes, so I thought by wearing their numbers, I'll be a good athlete, too."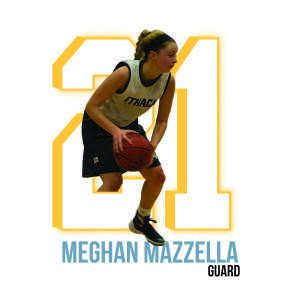 Freshman Meghan Mazzella had worn the number 4 since her freshman year of high school and planned on continuing to wear it in college. However, when she arrived at Ithaca College, the number was already taken by an upperclassman.
Mazzella was not hesitant when she knew she could not grab 4 because 21 was available. Her older sister Mary, who is a junior at SUNY Oswego and a member of its basketball team, wears 21, so Mazzella decided to share this number with her sister.
"I obviously thought it through and wasn't just going to take a random number," Mazzella said. "There had to be some reasoning behind it."
Mazella said she looks up to her sister and has always admired her both on and off the court.
"She's just a really dedicated player," Mazzella said. "She's got a great attitude, and she's a great leader, so I want to incorporate all of those things in myself when I wear it."
Basketball has also been a huge part in her family's life. Her father has helped train and coach the sisters since they were very young. He is also their high school's boys varsity basketball coach.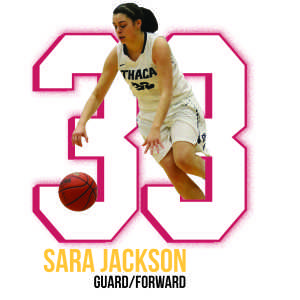 Freshman Sara Jackson has worn number 33 since the sixth grade, but coming into college, she said she wanted to switch to number 3 in order to honor her father, who wore that number when he was an athlete.
That number was unavailable because it was already taken by an upperclassman, so she decided to stick with number 33. Jackson said the decision to stick with number 33 was an easy one because it was partially her father's number and she has a history with it.
"I grew up with it, and for me, it's also like a superstition thing. I have to wear number 33," Jackson said. "When I wear 33, I feel more comfort, and again, it is who I am."
Recently, her mother told her her grandparents were huge fans of Larry Bird, a former National Basketball Association player for the Boston Celtics, who also wore number 33. When she heard this, but she said she knew it was the right choice to continue wearing that number as a Bomber.
"It's been a part of me and who I am," Jackson said. "It's nice to know it has a family connection, too."