When the men's basketball team fell 94–89 to Utica College on Feb. 5 in Ben Light Gymnasium, the players knew they would have to win their next five games to capture the Empire 8 regular season championship.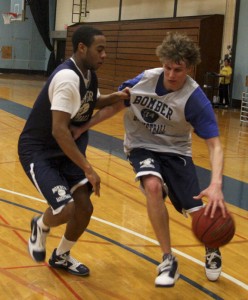 The Blue and Gold, 20–5 overall this season, did just that, playing stifling defense and winning four of those games on the road, including a 96–74 romp over second-place Stevens Institute of Technology on Saturday that helped clinch the championship.
Head Coach Jim Mullins said the Bombers are playing some of their best basketball of the year at the season's most crucial point.
"We've had this stretch the last couple of weeks when everything has been in sync offensively and defensively," Mullins said. "We're playing for everything that we have worked for this season these next few games."
In the past five games, the Bombers have given up just 71.2 points per contest — about 10 points less than their season average. They've also been averaging 90 points per game during that same stretch, one point higher than their season average.
Sophomore point guard Sean Rossi said the Bombers know they can put points on the board, and stopping opponents is now their main focus.
"We have one of the best offenses in the country and the ability to put up points against any team," Rossi said. "If we play well on defense and limit our mistakes on offense, we know there is a good chance we'll win."
Senior center Phil Barera said the team understood the magnitude of the game.
"All the guys knew what was at stake — getting our 20th win and hosting the conference tournament," he said. "Everyone used that as motivation and rose to the occasion."
The Blue and Gold will face rival St. John Fisher on Friday in Ben Light Gymnasium in one of two conference semifinals. The Bombers went 2–0 against their main rival this season, and Rossi said there is plenty of motivation to beat them a third time.
"It's obviously a huge game for us being the conference tournament, and playing Fisher only adds incentive," Rossi said.
The South Hill squad and Fisher have combined to win the past eight regular season conference championships, and Barera said it's only furthered their rivalry.
If the Bombers defeat Fisher on Friday, they will play the winner of the Stevens and Hartwick College game. The championship game will take place at 2 p.m. Sunday at the home of the highest remaining seed.
Mullins said the South Hill squad obviously wants to win the conference, but he feels the Blue and Gold have already done enough this season to secure a spot in the national tournament.
"We're in pretty good shape overall based on getting to 20 wins and winning the regular season championship," he said. "But clearly we'd like to win the conference tournament and go into the national tournament playing our best basketball of the season."