The days of practicing on grass are numbered for the field hockey team. With the construction of the new Athletics and Events Center comes a new outdoor turf field, situated behind the facility, that is scheduled to be completed by Oct. 4, John Wallace, facilities and operations assistant for intercollegiate athletics, said.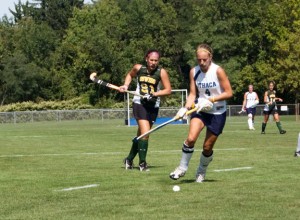 However, as the Bombers prepare to change fields, switching to turf is an adjustment since all of the players have different backgrounds of what surfaces they have played on — AstroTurf, field turf and grass.
Head Coach Tracey Houk said the team is going to have to adapt to the new playing environment in order to succeed.
"There's a lot of transition going on this year," Houk said. "We're going to get a new field halfway through our season. So having our … field come in the middle of our season is … exciting, but it's also an adjustment."
Sophomore goalie Kelly Singleton said the turf game is more advantageous because it is faster and more accurate than games played on grass.
"We've been practicing on grass and we have to play teams on turf," Singleton said. "It's kind of hard to adjust from turf to grass. … It's definitely a disadvantage overall because every Empire 8 game we'll play will be on turf."
Freshman midfielder Samantha English said she played on turf in high school and had to switch to grass when she arrived at Ithaca College.
"Turf is easier to play on but the grass at Ithaca is pretty nice," English said. "There's no crazy divots or hills."
There are certain field hockey skills that can only be preformed on turf. Freshman forward/midfielder Katie Kennedy said the team is looking forward to using a new technique on the turf, a sweep, instead of a drive  that the squad uses on grass fields.
"[On grass] you have to take your stick off the ball to get a hard shot," Kennedy said. "But on turf you can sweep it, and that's not really taking your stick off the ball."
Another move that is only possible on turf is a squeeze shot. Executing this shot relies on a downward motion of the stick, striking or "squeezing" the ball against the ground before it shoots forward into the air.
So far this season, the Bombers have practiced off campus to prepare for playing on opponents' turf fields.
"When we have turf games, [Houk] has us practice at Cornell [University] on their turf," English said. "We actually have an advantage for all the turf teams that we play to have them come play on our grass. It slows them down a lot."
The new turf field will allow the team to ultimately speed up the pace of the game in its favor, sophomore forward Amanda Rissmeyer said.
"Actually being able to practice on [our own] turf before a game that is on turf is going to help us so much," she said. "Our small detail passing … is going to be 20 times better."
The Bombers will continue to work on developing their chemistry on turf in the team's first Empire 8 matchup of the season against Stevens Institute of Technology on Saturday in Hoboken, N.J.
"We have so much potential because our seniors are so good this year," Singleton said. "As soon as we are able to switch to turf we'll have such a better advantage … [and] our team is just going to get so much better."