When the baseball team takes the field for games this spring, there will be many unfamiliar arms out on the mound and in the bullpen.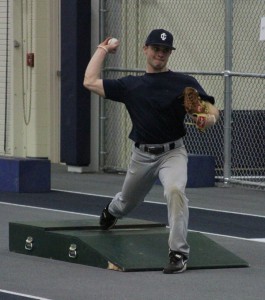 The team will count on pitching from sophomores David Jasukonis and Luke Stark, who were both on the junior varsity team last season. Jimmy Wagner, John Prendergast, Quinn Irwin and Andrew Sanders constitute the South Hill squad's freshmen pitchers.
Last year's starters, Dan Lynch '11, Aaron Sapp '11 and Andrew Wall '11, who combined for 84 strikeouts, graduated. Junior Jasper Adams will miss all of the 2012 season following Tommy John surgery, senior Brian Eggleston will miss the season because of a torn rotator cuff, and junior Ian Gaule has been unable to practice because of medical issues.
Head Coach George Valesente said replacing all those players on the mound will be difficult for the team, but it's manageable.
"We've lost six pitchers in one year," he said. "I don't even think the Yankees could handle that, but we'll figure it out."
Adams had a team-low 1.59 ERA last season, while Eggleston fanned 19 batters in 16 innings.
Valesente said he is not certain how he will use the young arms at this point in the season, but, regardless of their roles, composure is vital.
"The hitters are going to be more challenging, and there are going to be times when they're going to get hit hard," he said. "We need to see how they handle that and how they're able to keep the rallies from extending too long."
Senior pitcher Tucker Healy, who struck out six batters in the season-opener Friday against SUNY-Old Westbury, said the young pitchers need to develop their control rather than look to overpower hitters.
"They're just going to have to throw strikes, not give up many walks and keep the hitters off balance," he said. "We've got eight guys behind them, so if they can just throw strikes and get ground balls and fly balls, we'll be fine."
Wagner, who pitched 1 2/3 innings of shutout relief in the season-opener, said he can already tell Division III baseball is more physically and mentally challenging than at the high school level.
"You have to be smart — you can't just go out there and throw," he said. "You have to really use your mind and your arm when you're out there."
Valesente said he is putting the young pitchers through strenuous conditioning and arm strengthening drills as well as going over game situations in practice.
"The things we're having them do are pitching live batting practice," he said. "They're called upon to try to hit locations, change speeds and get their breaking ball over the plate."
Valesente said he also tries to simulate game situations, such as the hitter's count and the position of base runners, in order to construct the young pitchers' instincts on the mound.
As the season gets under way, Valesente said he is certain the young pitchers will perform well despite their inexperience.
"From a coaching standpoint, it's always more of a comfortable feeling to have experienced players who know how to handle the battle," he said. "But I'm confident. From what I've seen, they've all been impressive."