Unlike baseball where teams rely on a four- or five-man starting rotation, softball teams typically look to one or two arms to do most of the work. But this year, the softball team has four arms getting time on the mound.
Seniors Alyssa Brook and Brooke Kithcart and juniors Brittany Lillie and Allison Greaney have come together as a dominant pitching staff.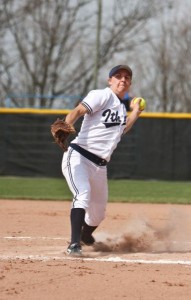 "It's nice that we've been able to work them into different games so we can go [with] more of a baseball style, where we don't necessarily have people throwing complete games," Assistant Coach Hannah Shalett '07 said. "We can use their differences to keep teams off-balance. You might bring in [Brook] after Brit pitches or Brit after [Brook] pitches and that change takes teams time, and in a seven-inning game you don't necessarily have that time to make the adjustment."
Shalett, who was an All-American catcher for the Bombers, joined the team's coaching staff this season after spending two years as an assistant coach at Smith College. Brook said having direct contact with Shalett has been great for the pitching staff. Shalett said as a former catcher, she has acted as more of a facilitator than a pitching coach.
"The main thing is just having somebody there every day to keep them focused," she said. "Obviously, they have all the talent. I don't bring necessarily a lot of pitching techniques. We're just putting them through hard workouts and keeping them focused and getting them moving in the right direction."
In addition to bringing Shalett into the mix, Brook said the four pitchers get along well.
"No matter what we do between innings, if one thing went wrong or if one thing went really well, we know each other well enough to be able to point it out, and that's a really positive thing," she said.
While the players all blend together well in the dugout, each of them brings something different out onto the field. Lillie and Kithcart throw devastating drop balls, Brook blows batters away with straight speed and Greaney dominates the corners as she mixes in curveballs and screwballs.
Greaney had only made four appearances on the mound before this season. The past two years she was the team's starting third baseman. This season Greaney is 5–1 with a 2.72 ERA in eight appearances.
"She's a great pitcher," Lillie said. "She gets batters off-balance, and she's just a confident player all around so having her on the mound is a really big help for us."
Brook said having multiple players take the mound helps keep their stamina high throughout the lengthy season.
"We all just feel more fresh," she said. "We don't have the pressure. We don't feel stressed because there's four of us, and say one of us isn't having a great day, there's three other people who can back you up."
After tossing a combined three straight shutouts before suffering two losses to SUNY-Cortland yesterday, the pitchers and the rest of the team are confident heading into the tougher half of the season, Lillie said.
"We haven't really gotten to the heart of our season yet," Lillie said. "We're not playing the teams in our conference yet that are definitely going to be a good challenge for us. But at the same time, going into the games that are going to be more challenging for us this week and then later weeks, it's a huge confidence boost because we're playing so well."