With depth and talent, the relay squad is one of the strongest pieces to this year's dexterous men's track and field team.
"On the relay, it hurts to have one weak person," sophomore Doug Koury said. "But this year, when I hand it off to the next person, I know that they will run as fast or faster than me, so that really helps."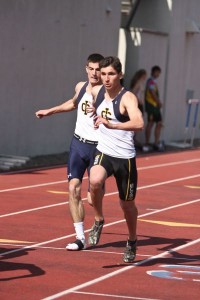 Koury, juniors Jeff Wetmore and Max Orenstein, and freshman Chris Mastrosimone make up the Bombers' relay team.
"Previous years we have had some good relays," Wetmore said. "But we have replaced a few people with strong athletes. Chris is a strong freshman this year. Doug has really stepped up. We have gotten faster as a team overall."
Since the outdoor season began, the relay squad has had three first-place finishes and one third-place finish, but the relay members said injuries have hindered the team from reaching its true potential.
"So far this year we really haven't all run together," Orenstein said. "Chris was injured, Doug was injured, so all of us have not peaked at the same time at any point this season."
Still, all of the relay members have had strong individual performances this spring. Orenstein has qualified for the Eastern College Athletic Conference Championships in the 100- and 200-meter individual dashes and the 400-meter relay. Wetmore will also join Orenstein at the ECAC Championship in each of those events. Koury and Mastrosimone earned ECAC qualifying honors in the 400-meter dash as well as the 400-meter relay.
One thing that has helped the members succeed is the friendly competition that has developed among them.
"At the end of a 400-meter relay we are all sprinting even though we are tired because we are competing against each other and against other teams," Mastrosimone said. "It helps a lot to be competing against each other."
Wetmore said friendly competition is key to developing chemistry during the season.
"[The relay team] creates a friendly competition atmosphere, and that competition really pushes us during the meets," he said. "You need to have good competition within the team further on in the season to push you to perform well and win at meets."
Koury said the relay team stands out from the rest of the team because not only do runners compete against one another, but they also have to compete for one another.
"You have standards to live up to for being on the relay team," Koury said. "You aren't running for yourself, but you are running for your teammates."
Orenstein said even though the relay team has had strong performances so far, they have not performed at the level they should.
"We've been winning races because we have four really fast kids," Orenstein said. "But for the way we should be running, we aren't doing well at all. We are about a second and a half off of where we thought we should be right now, so that is a little disappointing."
Even though the relay team hasn't reached its full potential, the four members have developed team unity. The older members provide experience, and the younger members have stepped up beyond their years.
"Definitely having upperclassmen as a support group has helped," Mastrosimone said. "They have helped me a lot with running forms and off the track as well."
After graduating Chris Covino '09, a member of the 400-meter relay team, at the end of last season, the Bombers needed to fill a spot on the relay team. The remaining relay runners were surprised that a freshman could step up and fill that void.
"Chris has asked us for advice this year, and he has proven he is a good part of the relay team," Koury said.
With its depth, team unity and constructive team competition, the relay runners believe this spring could be promising.
"We have the potential to be All-American," Orenstein said. "It's hard to get to the NCAA Championship and be All-American, but we have the potential to do that. We came into the season believing that, and we still believe that now."